Aramis' injury not on All-Star voters' minds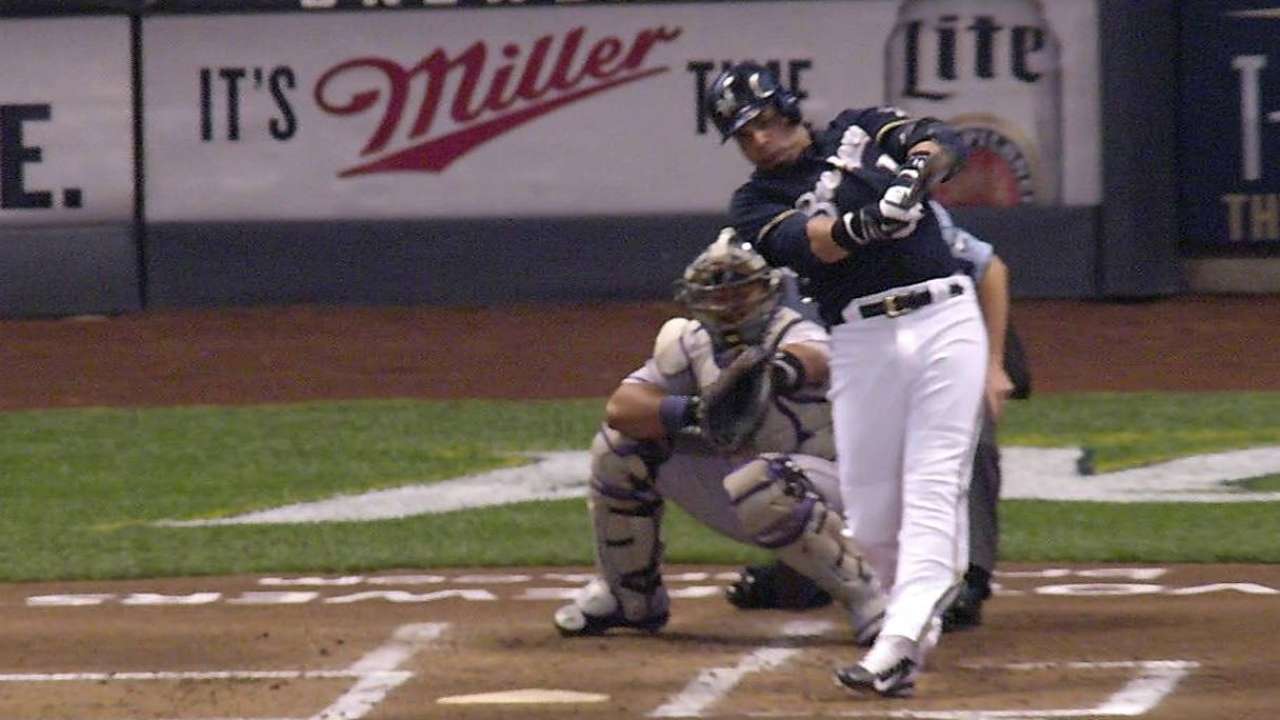 MILWAUKEE -- Aramis Ramirez had not even thought about the All-Star Game before his name appeared atop the list of National League third basemen in the latest round of balloting results.
Now, with less than a week to go in online voting, he says he would relish the opportunity to represent the NL for the third time in his career.
"Any time you get the opportunity to go, you should," said Ramirez, who started the All-Star Game in 2005 and played off the bench in '08. "It's a fun time, especially for the family."
Ramirez referred to it as a "win-win situation for me. If I make it, good. If not, I get to go home and enjoy myself for four days."
Ramirez was surprised to see his name atop the leaderboard at third base because he missed about a month with a hamstring injury. But since Ramirez's return to the lineup June 4, the Brewers have continued winning and Ramirez has resumed hitting, ranking fourth in the NL with six home runs from that date through Thursday, fifth with 19 RBIs and tied for fifth with a .363 batting average.
Health is behind his surge, Ramirez said.
"Last year I wasn't healthy at all," he said. "This year I feel a lot better physically and mentally, and you see the results. When you're healthy, you're going to perform. When you're not, it's tough. That was the case last year."
Ramirez was the Brewers' cleanup hitter when healthy in 2012 and '13, but he has been hitting fifth since coming off the DL. Manager Ron Roenicke has discussed returning Ramirez to the four-hole and dropping Ryan Braun from second to his usual position batting third, but he has yet to make the change because the current offensive alignment has been working so well.
"You look at numbers of things, and it doesn't tell you to do it yet," Roenicke said. "Visually, you see a game and you think, 'Well, I would like to do it.' But when you talk about current cleanup hitter [Carlos Gomez], because we know he can hit anywhere in the lineup, he's still [.355 entering Friday] with runners in scoring position. I think he's third in the league. So, what do you do?"
Is Ramirez eager to return to his usual spot?
"Not really," he said. "Roenicke keeps asking me, and I keep telling him, 'We're winning like that. No reason to change anything.' I don't have the big ego that I have to be the cleanup hitter or the three-hole hitter. I don't care. As long as we're winning games, I don't care."
With 1,279,902 votes as of MLB's most recent update, Ramirez moved ahead of the Mets' David Wright (1,260,895 votes), the Giants' Pablo Sandoval (1,194,607 votes) and the Cardinals' Matt Carpenter (1,049,472 votes). Wright, who had been the leading vote-getter before that update, was scratched from New York's lineup on Friday and sent home to have an MRI scan on his right shoulder.
Fans can cast their votes for starters at MLB.com -- online or on a mobile device -- using the 2014 All-Star Game MLB.com Ballot Sponsored by Experian until Thursday, July 3, at 10:59 p.m. CT. The 2014 All-Star Game will be played at Target Field on Tuesday, July 15, on FOX.
"They vote here," Ramirez said. "The fans, they're really passionate about their team. A lot of guys here deserve it, too. We've been playing pretty well."
Adam McCalvy is a reporter for MLB.com. Read his blog, Brew Beat, and follow him on Twitter at @AdamMcCalvy. This story was not subject to the approval of Major League Baseball or its clubs.