Gomez voices interest in Home Run Derby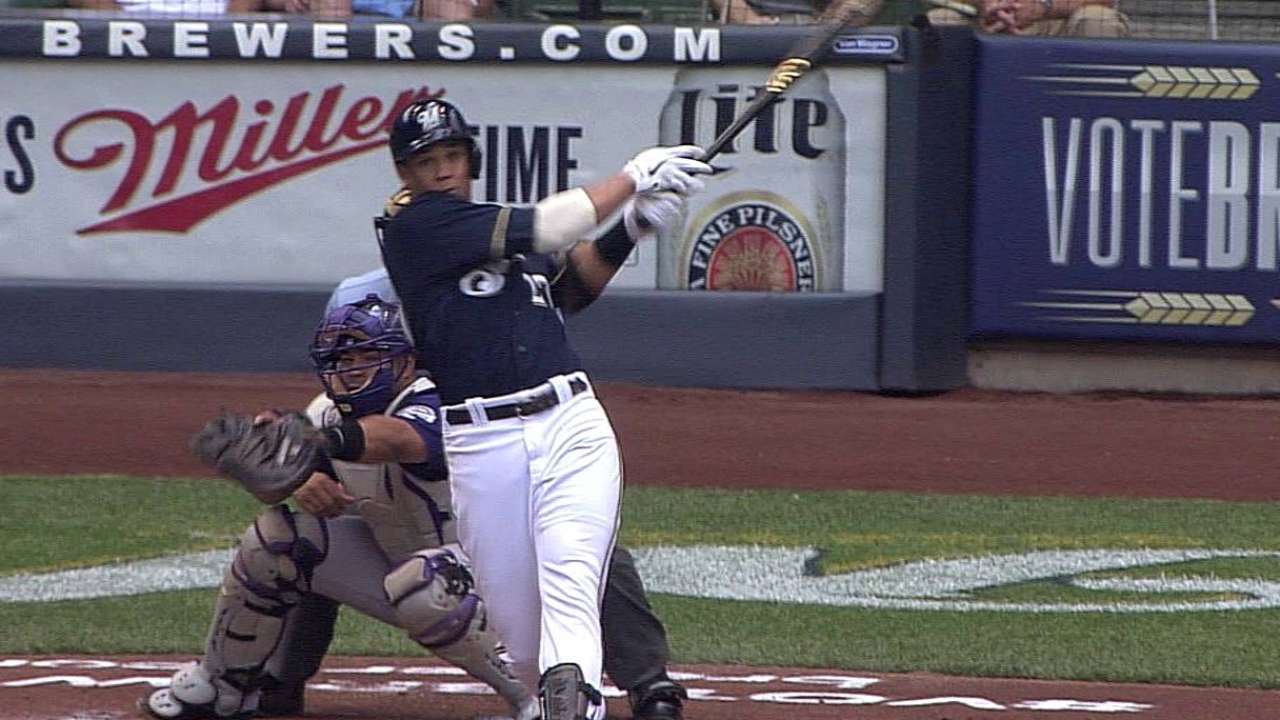 CINCINNATI -- When the National League's Home Run Derby captain passed through Miller Park last week, Brewers center fielder and All-Star Game hopeful Carlos Gomez saw an opportunity. He asked teammate Ryan Braun to put in a good word with Rockies shortstop Troy Tulowitzki. "I told him I want to be there," Gomez said.
Braun went a step further.
"It's his dream, dude," said a smiling Braun, who took part in the event in 2008. "He's been wanting to do it since he was a bench player."
Tulowitzki has already selected Marlins slugger Giancarlo Stanton for the July 14 Gillette Home Run Derby at Target Field in Minneapolis. That leaves three openings for the NL "team," one of which appears earmarked for Tulowitzki's teammate and former Minnesota Twin Justin Morneau.
Gomez, is in a good position to make the team after the most recent round of balloting results. Gomez ranked second among NL outfielders, with the top three vote-getters earning a start. The All-Star teams will be unveiled after 6 p.m. CT on Sunday.
"He would be entertaining," Braun said. "If he could control his emotions, I think he would do really well. Basically, every single day in batting practice is home run derby for him, and in the game, it's the same thing. Every single pitch, every situation, he tries to hit a home run, and it works well for him. He's probably one of those guys who really doesn't have to change much of anything, which I think is advantageous in a competition like that. He would definitely be entertaining."
Braun and Brewers manager Ron Roenicke all argued that the concern about a player altering his approach for a Derby and suffering the consequences in the second half do not apply to Gomez, who takes upward of 200 swings before every game.
"Like today already," he said Friday afternoon, "we had early hitting, and I had 70 or 80 swings, plus 40 in the cage. I already have 120 swings. I don't swing easy. Why would I swing easy? If I'm in the game, I don't swing easy."
Said Roenicke, who endorsed Gomez's interest in the event: "I don't think anything's going to ruin that swing."
Gomez and Morneau were among the NL players tied for 15th in the league with 13 home runs entering Friday's games. Stanton led the league with 21 homers and Tulowitzki was second with 19. The Cubs' Anthony Rizzo (17 homers), the Reds' Todd Frazier (17) and the D-backs' Paul Goldschmidt (15) were among the other likely All-Stars among the league leaders.
"It's hard for [Tulowitzki]," Braun said, "because there's a lot of guys who want to do it, a lot of guys who are campaigning to do it."
Adam McCalvy is a reporter for MLB.com. Read his blog, Brew Beat, and follow him on Twitter at @AdamMcCalvy. This story was not subject to the approval of Major League Baseball or its clubs.