Lucroy's slugging numbers up, strikeouts down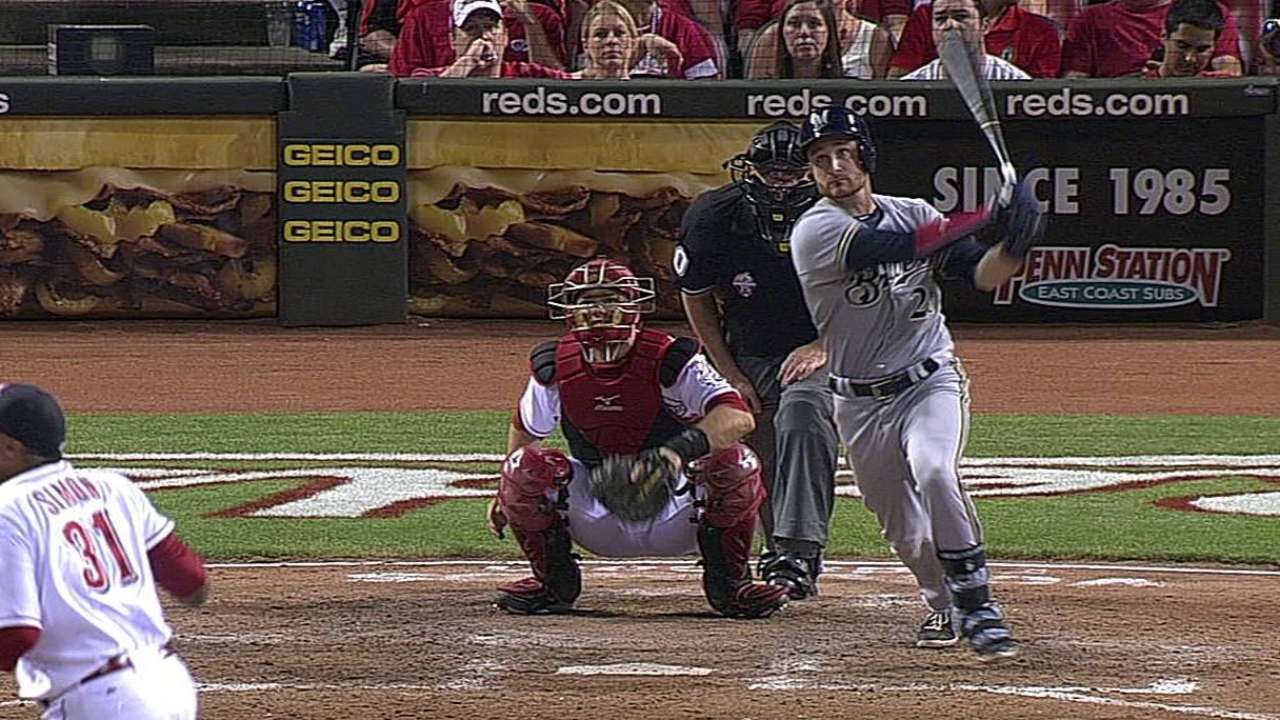 CINCINNATI -- Brewers catcher Jonathan Lucroy entered Saturday as the only everyday player in the National League with more extra-base hits than strikeouts, an accomplishment that has grown increasingly rare in recent seasons.
Lucroy has 40 extra-base hits versus 38 strikeouts and was one of four Major Leaguers with enough play to qualify for a batting title (3.1 plate appearances per team game) with such splits. The other three -- Jose Altuve of the Astros, Michael Brantley of the Indians and Victor Martinez of the Tigers -- are in the American League.
"I never think about not striking out," Lucroy said. "I think about swinging at good pitches and putting the ball in play. You can't put yourself in a defensive mode. You have to be offensive and swing at strikes. That's the key. Hit the ball hard somewhere."
In each of the past two full seasons, only two qualifying players finished with more extra-base hits than strikeouts (Yadier Molina and Edwin Encarnacion in 2013, and Jose Reyes and Albert Pujols in 2012). In 2011, five players did it. In 2008, there were 10. In 2003, there were 18.
Fifteen times in Brewers history, a regular player has done it. The last over a full season was second baseman Fernando Vina in 1998, when he had 53 extra-base hits and 46 strikeouts. Robin Yount had three such seasons, including two (1980 and '82) during which he led the American League in extra-base hits. On the way to winning AL MVP honors in '82, Yount set the club mark for the biggest disparity between those totals, with 24 more extra-base hits (87) than strikeouts (63).
Cecil Cooper had the most such seasons in Brewers history, with four from 1980-83.
Lucroy doubled and scored the Brewers' only run in Saturday's 1-0 win over the Reds, putting Lucroy on pace to challenge a pair of records. His 30 doubles in the Brewers' first 88 games works out to a 55-double pace, which would top Lyle Overbay's club record of 53 doubles in 2004 and set a record for a Major Leaguer who played at least half of his games at catcher. The Rangers' Ivan Rodriguez set the current standard with 47 doubles in 1996.
Adam McCalvy is a reporter for MLB.com. Read his blog, Brew Beat, and follow him on Twitter at @AdamMcCalvy. This story was not subject to the approval of Major League Baseball or its clubs.