Gomez awaiting word on Home Run Derby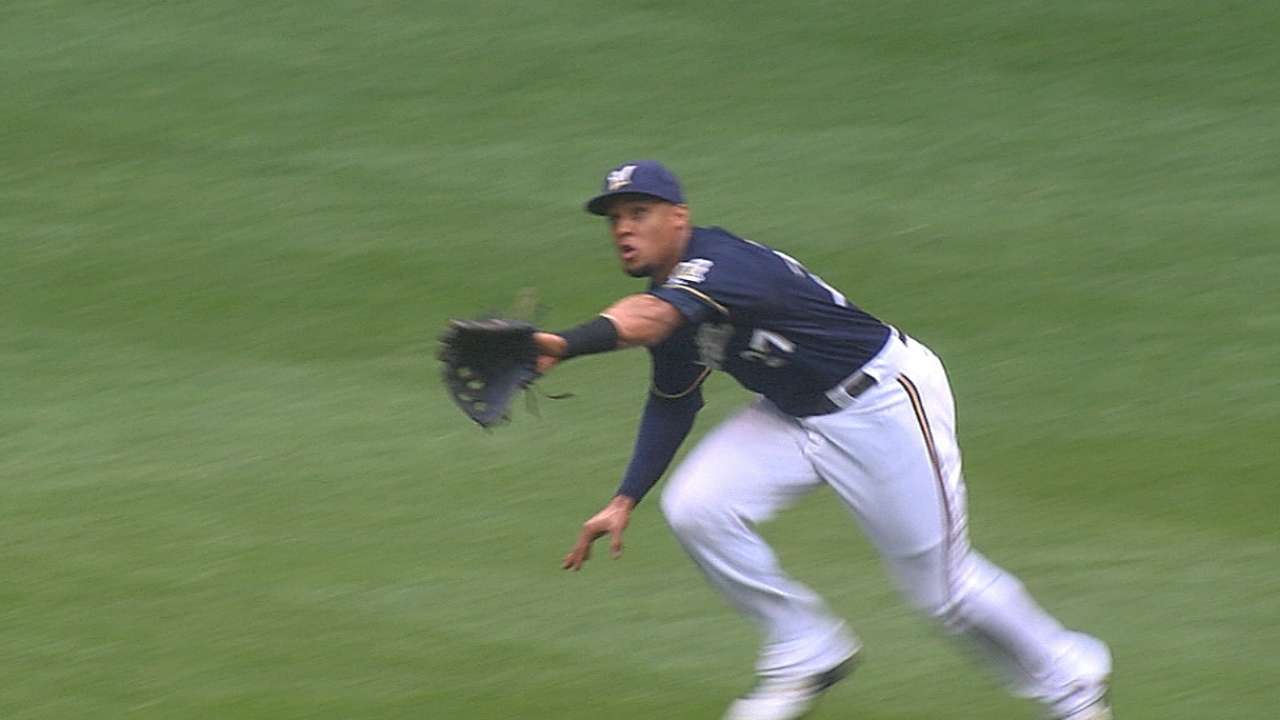 MILWAUKEE -- Now that he's officially a National League All-Star, all Brewers center fielder Carlos Gomez needed was a position in the July 15 game itself, and to know whether he will spend the night before watching the Home Run Derby from the sidelines, or swinging for the fences himself.
First, the position. Gomez won his spot in the NL's starting lineup by finishing second among the league's outfielders in fan balloting, between a fellow center fielder (Andrew McCutchen of the Pirates) and a right fielder (Yasiel Puig of the Dodgers). It will be up to manager Mike Matheny to decide whether center field goes to the reigning NL MVP (McCutchen) or the reigning NL Gold Glove Award Winner at the position (Gomez).
"I don't know, and I don't care," Gomez said. "I know I'm a starter. Whatever the manager thinks is better, I'll take it. I play everywhere. When I came up with the Mets, most of the time I played [left field], so I make the adjustment quick. I think it will be fun to have two center fielders playing, and two really good center fielders."
Second, the July 14 Gillette Home Run Derby. Gomez has already made public his interest in the event, and even had teammate Ryan Braun lobby on his behalf with NL captain Troy Tulowitzki, whose selections will be announced Tuesday night.
As of Monday, Gomez was awaiting official word.
"It's something I've been dreaming about. It would be really exciting and fun to do it," Gomez said. "I don't know [if] I'm going to do it. The only thing I know is I can hit the ball really far."
Gomez is not worried about the event compromising his swing. Unlike some players who work the baseball around the field during batting practice, he simply steps into the batter's box and tries to hit it over the fence.
"I go the Home Run Derby every day," Gomez quipped. "That's what I do for [batting practice] every day, even in the cage. I don't think it's a big change for me." Has he always taken batting practice that way?
"Not before; they don't let me do it," Gomez said. "[Former Brewers manager] Ken Macha told me every time I hit a home run, 'Hit a ball on the ground!.'"
Adam McCalvy is a reporter for MLB.com. Read his blog, Brew Beat, and follow him on Twitter at @AdamMcCalvy. Caitlin Swieca is an associate reporter for MLB.com. This story was not subject to the approval of Major League Baseball or its clubs.