Braun picks up two hits in return, still day to day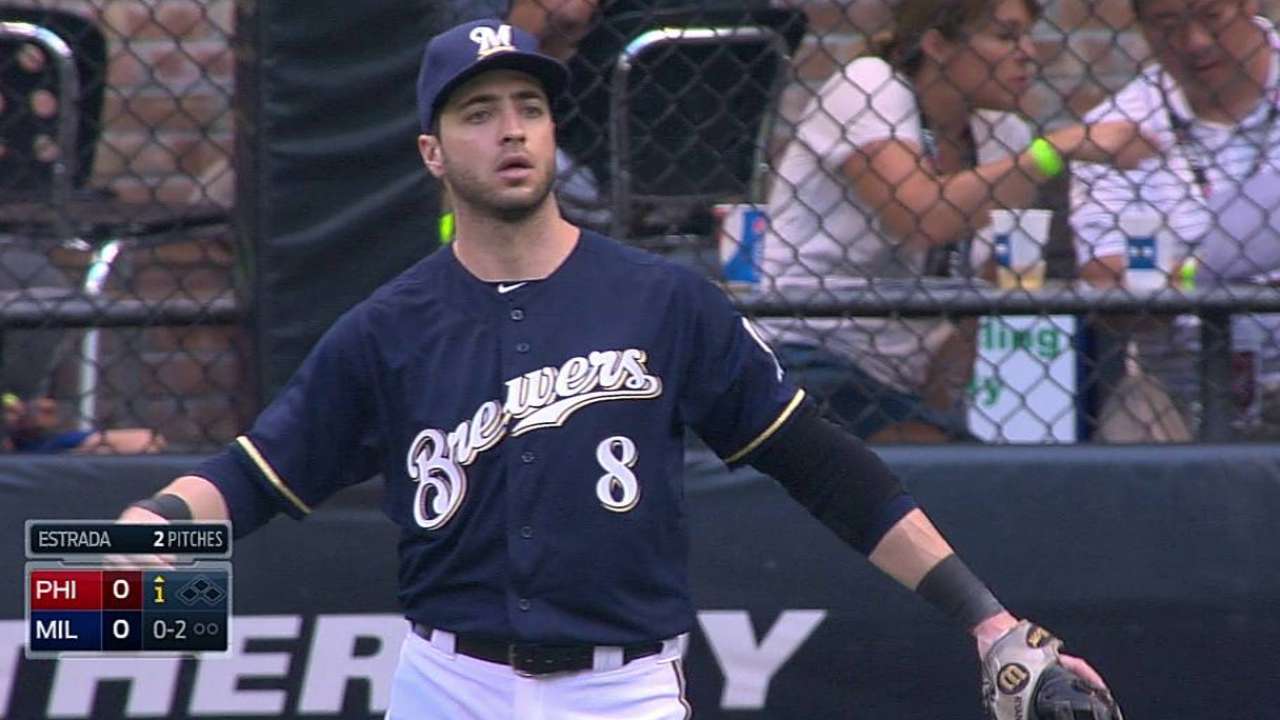 MILWAUKEE -- After leaving Saturday's game in the first inning and missing Sunday's game with back spasms, Ryan Braun was back in the Milwaukee lineup for Monday's game against Philadelphia in his usual No. 2 spot. Braun played eight innings on Monday before being lifted for pinch-runner Logan Schafer.
He left the game after hitting a double to lead off the Brewers' eighth; he was clearly running slowly on the hit. After the game, Roenicke labeled Braun as being day to day.
"We'll see how he is tomorrow when he gets in," Roenicke said. "It appeared to, when he was running, it appeared to get worse."
Before the game, Braun said his back was feeling better and "headed in the right direction." Roenicke reasserted that he felt this would only be a short-term issue.
"I don't know what percentage he is, but he went and worked out in the cage and it went pretty well," said manager Ron Roenicke prior to Monday's game. "We need to see him at a little higher level and energy and see where he is."
This isn't Braun's only injury this season: He's also been bothered by an inflamed nerve at the base of his right thumb and a rib-cage strain that required a stint on the disabled list.
When asked if part of him was looking forward to the four-day break he'll get next week as a result of being left off this year's All-Star squad, Braun responded: "Yeah, 100 percent of me was hoping for a few days off. This time of year there's a lot of bumps and bruises everyone's dealing with, a bunch of little things."
Adam McCalvy is a reporter for MLB.com. Read his blog, Brew Beat, and follow him on Twitter at @AdamMcCalvy. Caitlin Swieca is an associate reporter for MLB.com. This story was not subject to the approval of Major League Baseball or its clubs.