Brewers shuffle lineup with Braun out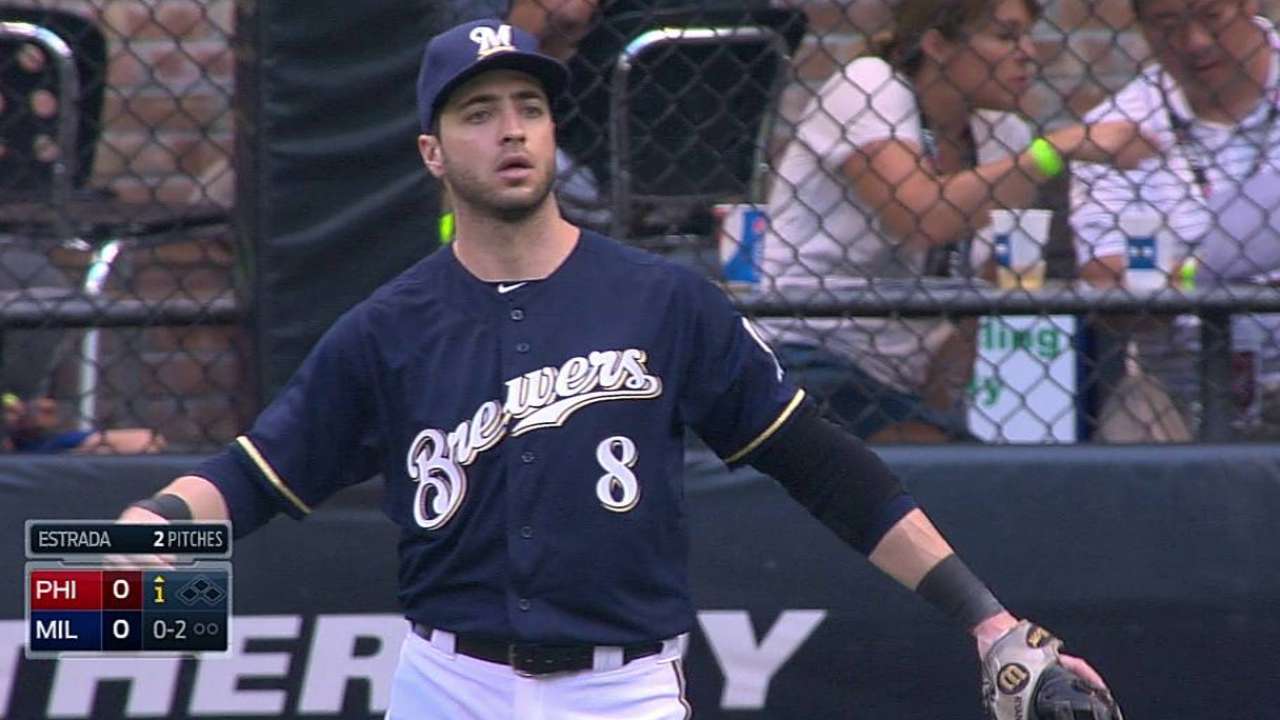 MILWAUKEE -- With Ryan Braun out of Tuesday's lineup with back issues that have lingered from this weekend, Ron Roenicke took an opportunity to do something he's been thinking about for a while and returned to a lineup that more closely resembles the one he put out on Opening Day.
Carlos Gomez, who led off his first 42 games this season, returned to the spot after starting 37 of his last 39 games in the cleanup hole. Aramis Ramirez, who has usually batted fifth since returning from the disabled list June 3, is back in his traditional cleanup spot. Recent leadoff man Scooter Gennett took over Braun's usual No. 2 spot and Jonathan Lucroy stayed at No. 3.
Roenicke said he was hoping the offense would wake up after scoring two runs or fewer in five of its last six games.
"I was wanting to do something, and this timing allowed me to do it, because I needed somebody to fill in where Ryan's spot was," Roenicke said. "I thought, 'I like Gomey leading off.' I think it was a good way to start out, what we did. If he gets on base, he can steal, and it seems like when he gets on base we were scoring a lot. So I think it was a good time to do it."
Gomez, who is feeling better after being sick during Monday's game, said he was indifferent to where he batted in the lineup.
"Wherever they put me in the lineup, I tell [Roenicke], 'You're the manager, and the decisions that you make to any lineup you put up there, you don't have to even tell me why,'" Gomez said. "I'm fine with it. Like I told him before, all I've dreamed about is staying in the lineup, so when I'm in the lineup, I'm the happiest man in the world."
Roenicke also said he's long felt that Ramirez's status as an elite hitter makes him more suited for the cleanup spot, and he's wanted to move the third baseman back there for a while.
As for Braun, Roenicke reasserted that he expected this to be a short-term malady. Braun was removed for pinch-runner Logan Schafer on Monday after running slowly on an eight-inning double, and Roenicke said he was "pretty sore" Tuesday.
Braun has been in and out of the lineup since being removed from Saturday's game in Cincinnati with back spasms.
Caitlin Swieca is an associate reporter for MLB.com. This story was not subject to the approval of Major League Baseball or its clubs.