Brewers place Wang on DL with shoulder tightness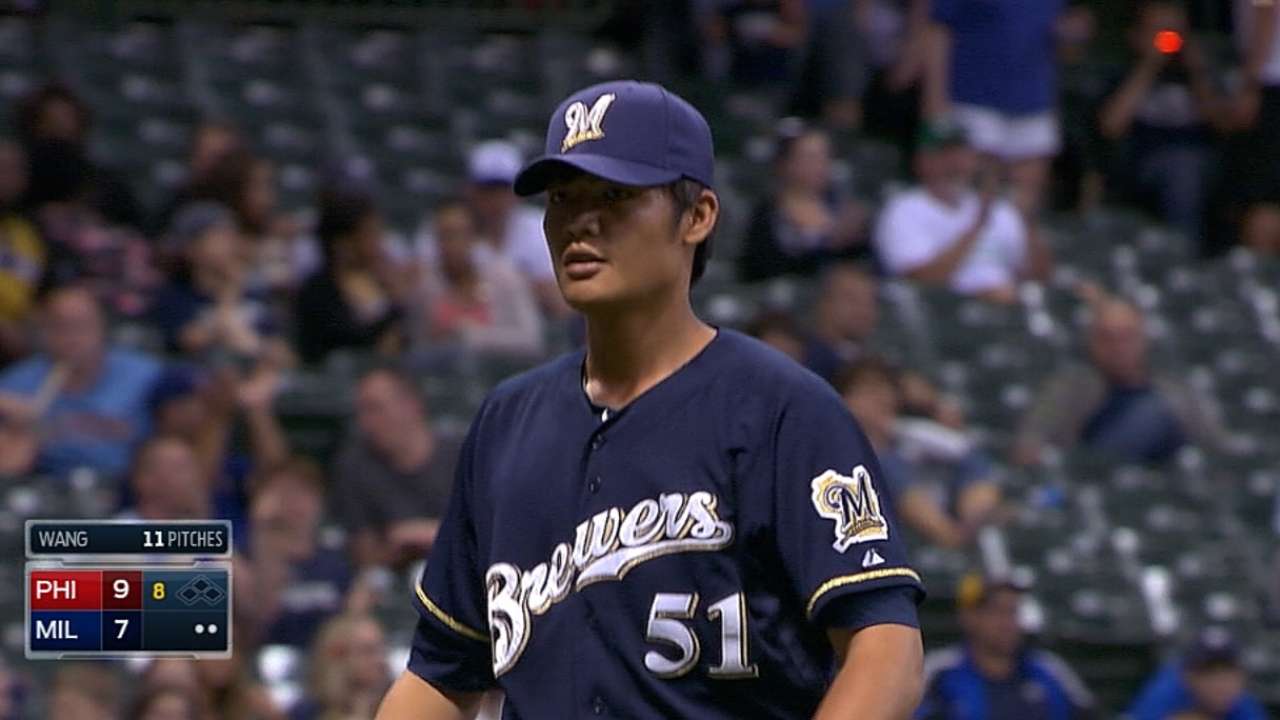 MILWAUKEE -- The Brewers placed Rule 5 Draft pick Wei-Chung Wang on the disabled list late Thursday with what the club said was left shoulder tightness, a move that could actually increase Wang's workload in the coming weeks.
Because of his inexperience -- Wang pitched in rookie ball last year -- the 22-year-old appeared only 13 times during the Brewers' first 93 games and compiled a 11.12 ERA. Roenicke said the plan called for several weeks of rest before Wang began a throwing program, followed by a Minor League rehabilitation assignment. The Brewers could even have Wang start some games, which would be his role in the Minors beginning next season.
That could take the parties all the way to September, when rosters expand and Wang could return to the Majors to watch what the Brewers hope is a pennant race.
"This came up pretty fast yesterday, and ... we haven't talked about whether he was going to start once he comes back or whether he was going to relieve," Roenicke said.
Rule 5 Draft rules demand that a player remain on his claiming team's roster all season, including at least 90 days of active duty. Wang has already fulfilled that requirement, so even if he remains on the DL for the rest of the season, he would be a part of the Brewers for the future.
The rules required a physician to certify that Wang is actually injured, a safeguard meant to prevent teams from inventing reasons to place Rule 5 picks on the DL.
Asked whether the DL stint could benefit Wang's development, Roenicke said, "Sure. That's the hard thing with what we were doing with him, is it was so inconsistent as to what we were doing. He would go 10 days, sometimes 12 days. That's what makes it so hard -- you want to develop him, and you also want him to pitch well for you, yet the inconsistent work is tough on a guy."
Adam McCalvy is a reporter for MLB.com. Read his blog, Brew Beat, and follow him on Twitter at @AdamMcCalvy. This story was not subject to the approval of Major League Baseball or its clubs.