Roenicke: 'Impossible' to keep Nelson in Minors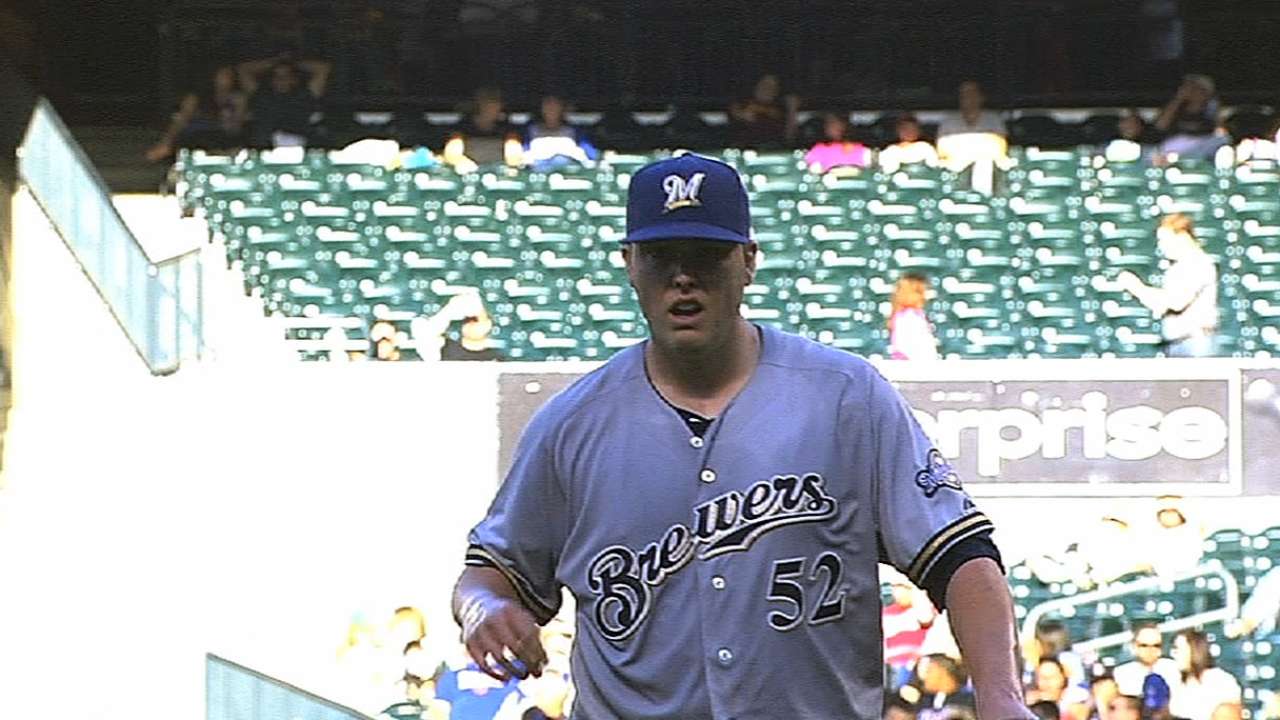 MILWAUKEE -- If the slumping Brewers had a hitting version of Jimmy Nelson, the pitching prospect who tore up the Triple-A Pacific Coast League during the first half of the season, he might have been promoted Thursday night, too.
But the Brewers do not have a big league-ready hitter like that, so Nelson arrived solo to join a team that had lost nine of its last 10 games and was seeking a proverbial shot in the arm. Rule 5 Draftee Wei-Chung Wang was moved to the disabled list to make room for Nelson on the active roster, and Marco Estrada was bumped to the bullpen so Nelson can start Saturday night against the Cardinals.
"Things aren't going as well the last week, week and a half, and I think that any time you do something that the players are excited about, I think it's good," Brewers manager Ron Roenicke said. "That's not a snub on Marco, it's just a guy [Nelson] that has probably been the best pitcher in the Minor Leagues."
Nelson, 25, who also started one game for the Brewers last September and one game in Miami in May, was 10-2 with a 1.46 ERA in 17 games (16) starts this season in Nashville while holding opponents to a .179 average.
Fifteen of Nelson's 16 starts were quality starts, and his last three were scoreless.
"Even though Marco's pitched, we think, better the last four games," Roenicke said, "Jimmy was making it impossible for us to keep him down there."
Nelson joined a team stuck in a slump, averaging only 2.5 runs per game over its past 10 games.
Did that backdrop add any pressure?
"No, not really," Nelson said. "I'm going to carry out my game plan. I've been doing my same routine all year, and I'm going to focus on my game plan and executing my pitches. …
"Personally, I felt like I was ready [for a promotion], but at the same time, there were things I was working on. There's things you are always polishing up and refining."
Roenicke declined to say definitively that Nelson was a permanent addition to a rotation that ranked ninth in the National League with a 3.80 ERA. Estrada had held opponents to a .222 average over his past three starts, but owns a 4.96 ERA and had allowed 27 home runs -- eight more than any other Major League pitcher entering Friday's games.
"He wasn't happy. I don't want him to be happy," Roenicke said. "But he understood."
Estrada's next appearance will be his first Major League outing in relief since July 8, 2012, snapping a streak of 54 starts. The Brewers briefly discussed adding Nelson to the bullpen to help solve the recent struggles of setup men Brandon Kintzler and Will Smith, but decided Nelson could help the team more as a starter.
"It's just that I think this guy deserved a chance," Roenicke said. "[General manager] Doug [Melvin] has been talking to me about him and wanting to make a change. Regardless of which area of our game isn't going well right now, we felt it was the right time to do it."
Adam McCalvy is a reporter for MLB.com. Read his blog, Brew Beat, and follow him on Twitter at @AdamMcCalvy. This story was not subject to the approval of Major League Baseball or its clubs.