Uecker reunites with Costas in MLB Network booth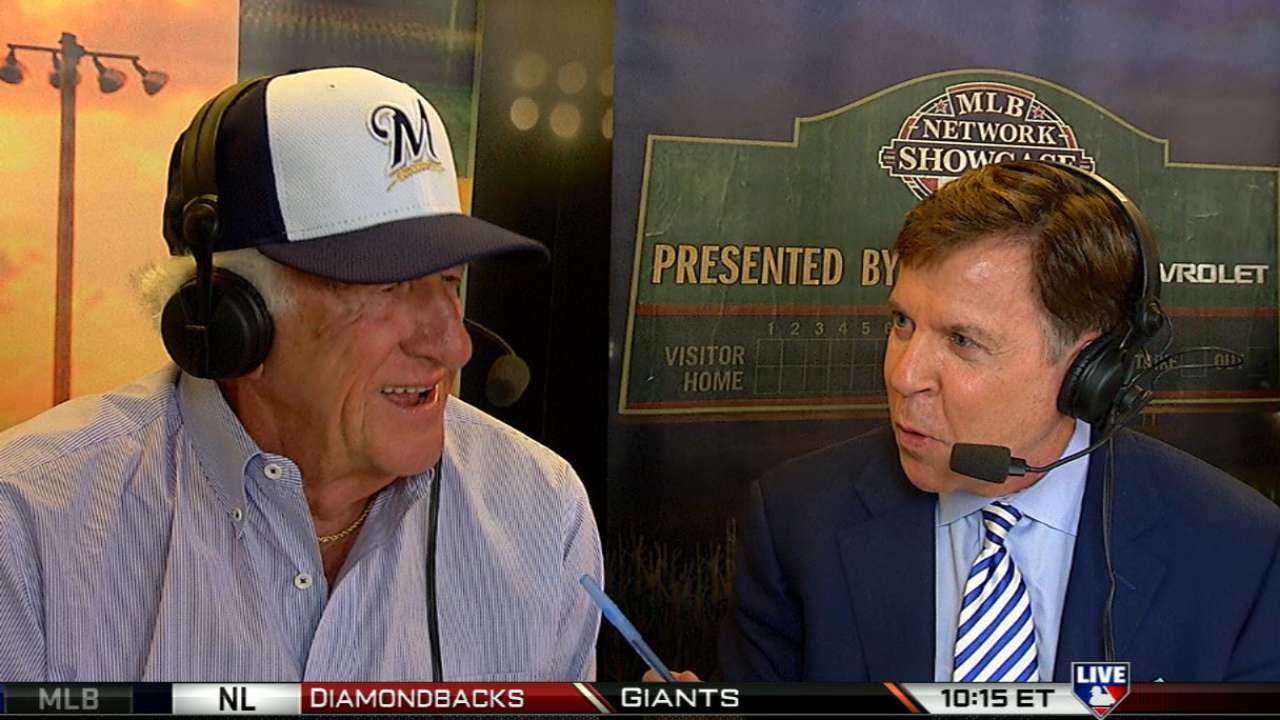 MILWAUKEE -- Bob Costas has anchored nine Olympic Games and been on the mic for World Series games, Super Bowls and NBA Finals. So where did his on-air reunion Friday night with old friend Bob Uecker rank among those broadcast endeavors?
"At least in my top 500," Costas said.
It was the sort of quick, deadpan answer usually provided by Uecker, the 80-year-old voice of the Brewers and a longtime favorite of Costas. They worked together beginning in the 1990s on NBC Game of the Week telecasts and have reprised the relationship dozens of times since, sometimes in Spring Training, sometimes during the regular season on the Brewers Radio Network. On Friday, Uecker joined Costas in the middle innings of an MLB Network telecast.
What's the funniest thing Uecker has ever said in Costas' presence?
"The funniest things," Costas said, "you can't print, and I can't say."
Here's a favorite story that is suitable for print: In the late 1990s, the two were working a Rangers-Yankees playoff game. During a particular tense moment, late in the game, the director cut from one close-up to another and Costas rattled off the names. Joe Torre. Andy Pettitte. Johnny Oates. Juan Gonzalez.
Uecker remained silent. Then the camera cut to a full moon above the stadium, and Uecker finally spoke up:
"Don Zimmer."
Costas still cracks up telling the story for the hundredth time.
But in the end, his favorite thing about Uecker is his enduring love of the game.
"He still loves it," Costas said. "It's the rhythm of his life. He's pushing 80 and he still sounds great. I think he'd have less energy and be less happy if he wasn't around the ballpark all the time."
Adam McCalvy is a reporter for MLB.com. Read his blog, Brew Beat, and follow him on Twitter at @AdamMcCalvy. This story was not subject to the approval of Major League Baseball or its clubs.