Weeks' missing helmet leads to dugout confusion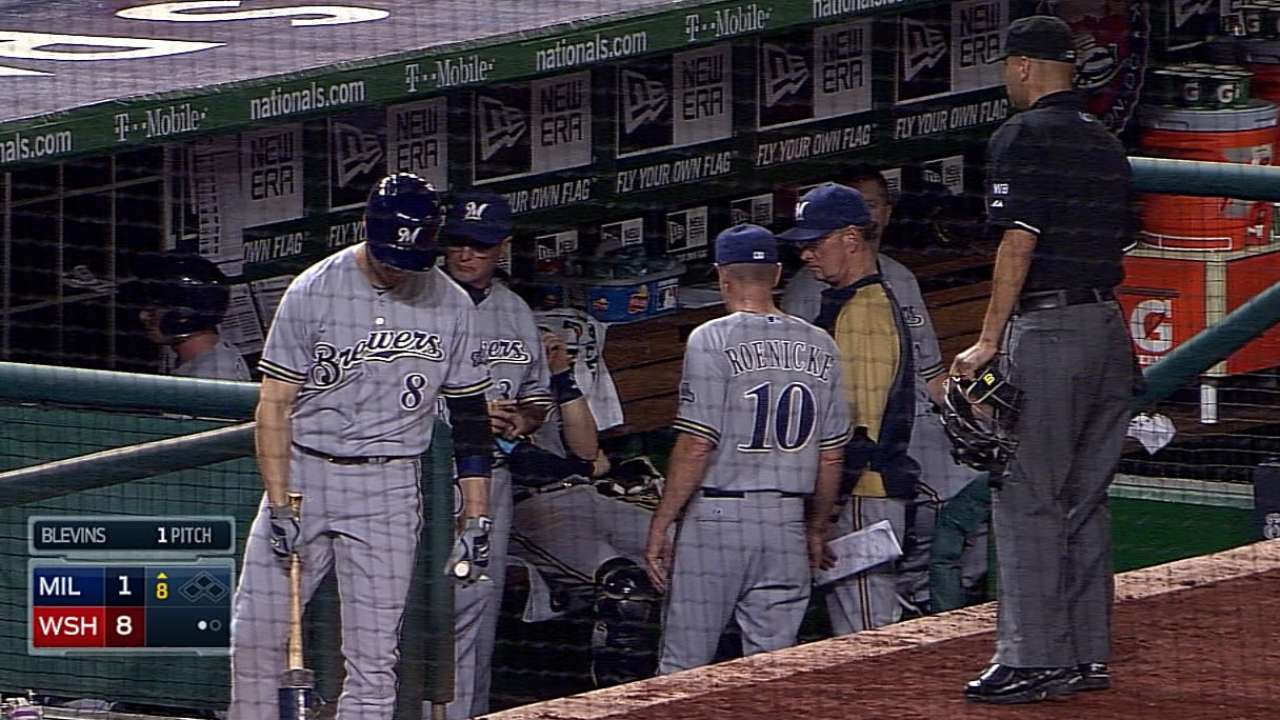 WASHINGTON -- Scooter Gennett's stiff leg and Rickie Weeks' missing helmet combined for a confusing moment in the eighth inning of Saturday's 8-3 loss to the Nationals.
Manager Ron Roenicke explained the situation after the game. Gennett started Saturday despite feeling tightness in one of his legs, but with Nationals left-hander Jerry Blevins on to pitch the eighth, Roenicke opted to pinch-hit the right-handed Weeks.
One problem: He couldn't find his helmet. Eager to move the lopsided game along -- Washington led at the time, 8-1 -- home-plate umpire Vic Carapazza approached the Brewers' dugout and expressed urgency. With the helmet still missing in action, Roenicke instead sent backup catcher Martin Maldonado to bat.
Maldonado hit the second pitch he saw for a single, and Ryan Braun followed with a two-run home run.
Gennett's leg is not considered a serious matter.
"We don't think so," Roenicke said. "He played. We knew it was tight, and the second or third inning, we watched him and I thought if there was a time in the game and I could get him out of there, I would get him out of there."
Adam McCalvy is a reporter for MLB.com. Read his blog, Brew Beat, and follow him on Twitter at @AdamMcCalvy. This story was not subject to the approval of Major League Baseball or its clubs.