Wounded Warriors wrap up trip with Brewers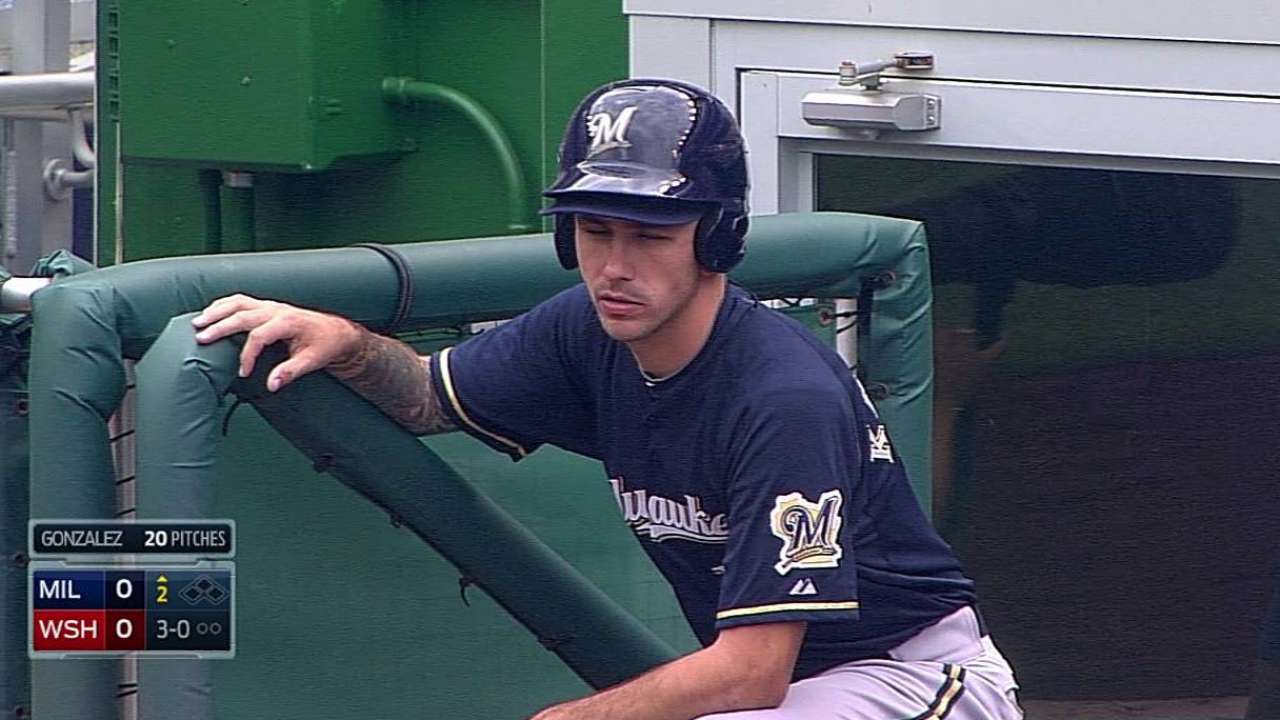 WASHINGTON -- After three dream days dressing in the uniform of their favorite team, the Brewers' VIPs returned the favor.
The whole team traveled home to Milwaukee on Sunday wearing Wounded Warrior Project polo shirts that were gifted by Shane Kruchten and Brian Schultz, the Marine Corps veterans who joined the team on its weekend trip. Guests of Brewers GM Doug Melvin, they enjoyed the full Major League experience, starting with a trip on a chartered flight during which they were handed envelopes filled with three days of big league meal money: $345.
Each day, Kruchten and Schultz shagged flies in the outfield during batting practice. Prior to Friday's series opener, they joined manager Ron Roenicke at home plate to exchange lineup cards with Nationals manager Matt Williams. On Saturday, they were part of a team contingent that toured the White House, then received a tour of the Nationals' home clubhouse from Adam LaRoche, who had heard about their trip. On Sunday, Kruchten and Schultz served on the field as batboys.
"It really feels like we're part of the team," said Schultz, who is from Wisconsin Dells. "They've really embraced us as part of the team as well. I wondered if it would be kind of weird to be in the locker room, like, 'Who's this joker?' But I haven't felt that one bit."
The two addressed the team on Friday afternoon, with Kruchten sharing a mini-documentary that detailed his return from two tours in Iraq and his battle with post-traumatic stress disorder.
"Being able to hold court for the Milwaukee Brewers was nuts," Kruchten said. "Rookies don't even get the opportunity to hold court of the Milwaukee Brewers. The entire team was quiet and watched us, and listened to everything we said. ... It was hard for me to say that. Prior to that video, only three people knew my real life story."
Of the rest of the weekend, Kruchten said, "Coming in here and being able to wear their uniform and being able to give them a Wounded Warrior Project shirt to wear, and to be part of the family, nothing can relate to it. Everybody in Milwaukee is more than jealous. It's an honor to be part of their family and go out and feel like a big leaguer for a weekend."
Brewers manager Ron Roenicke was more than happy to oblige.
"I think it helps our guys," Roenicke said. "I talk about this little bubble we're in. It's nice when you have to get out of it."
Adam McCalvy is a reporter for MLB.com. Read his blog, Brew Beat, and follow him on Twitter at @AdamMcCalvy. This story was not subject to the approval of Major League Baseball or its clubs.