Estrada's quick prep helped spare bullpen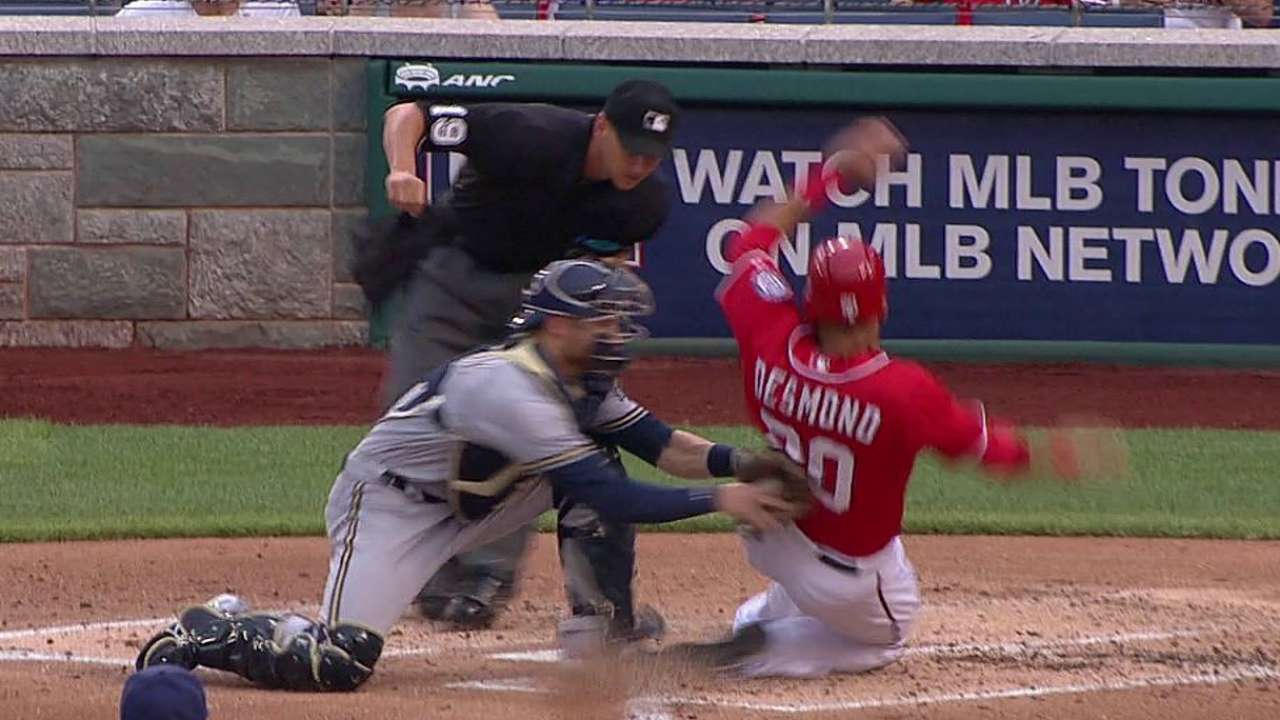 WASHINGTON -- The Brewers' longest relief outing in more than seven years was preceded by all of six warm-up throws.
That's all the work Marco Estrada got in the bullpen before taking over from Matt Garza with one out, two runners on base and the Brewers already in a 5-0 hole in the bottom of the first inning on Saturday. Estrada delivered 5 2/3 innings, allowing three more runs, but saving the rest of the bullpen from a blowout in the longest relief stint by a Brewers pitcher since Manny Parra's 6 1/3 innings against the Mets on Aug. 1, 2007.
The morning after, how did he feel?
"Tired," Estrada said with a sigh. "I'm sore. Normal stuff that would normally happen after a day you would start. It was different because it's been a while since I started -- a week and a half I think. I threw six pitches in the 'pen, and then I saw Ron [Roenicke, the manager] running out there."
Compare that to his warmup routine before a scheduled start, which entails 40 pitches.
He said it took him about an inning and a half Saturday to finally feel loose. That Estrada got the Brewers through the sixth inning meant Roenicke had a reasonably rested bullpen for Sunday's series finale, including left-hander Will Smith available after missing two games with a stiff back.
"You think about if [Estrada] could only go a couple innings, and where you'd be," Roenicke said. "We'd be a mess today."
Garza's outing was only the fourth non-injury-related Brewers start this season of fewer than five innings, but three have come within the past eight games -- Wily Peralta's 4 1/3 innings against the Phillies on July 8, Jimmy Nelson's 4 1/3 innings against the Cardinals on July 12 and Garza's one-third of an inning on Saturday.
Speaking of Garza, Roenicke was impressed with one element of Saturday's nightmare outing.
"The thing I like is [he was] obviously not happy about what happened," Roenicke said. "But I looked and, I don't know what inning it was, the third or fourth inning, and this guy is back on the bench with the rest of the guys. He's a really good teammate. Most guys would have been in there [in the clubhouse] ticked off the whole game. He's out here with the guys. That was pretty great."
Adam McCalvy is a reporter for MLB.com. Read his blog, Brew Beat, and follow him on Twitter at @AdamMcCalvy. This story was not subject to the approval of Major League Baseball or its clubs.