Heads-up Braun takes cue from 'Major League'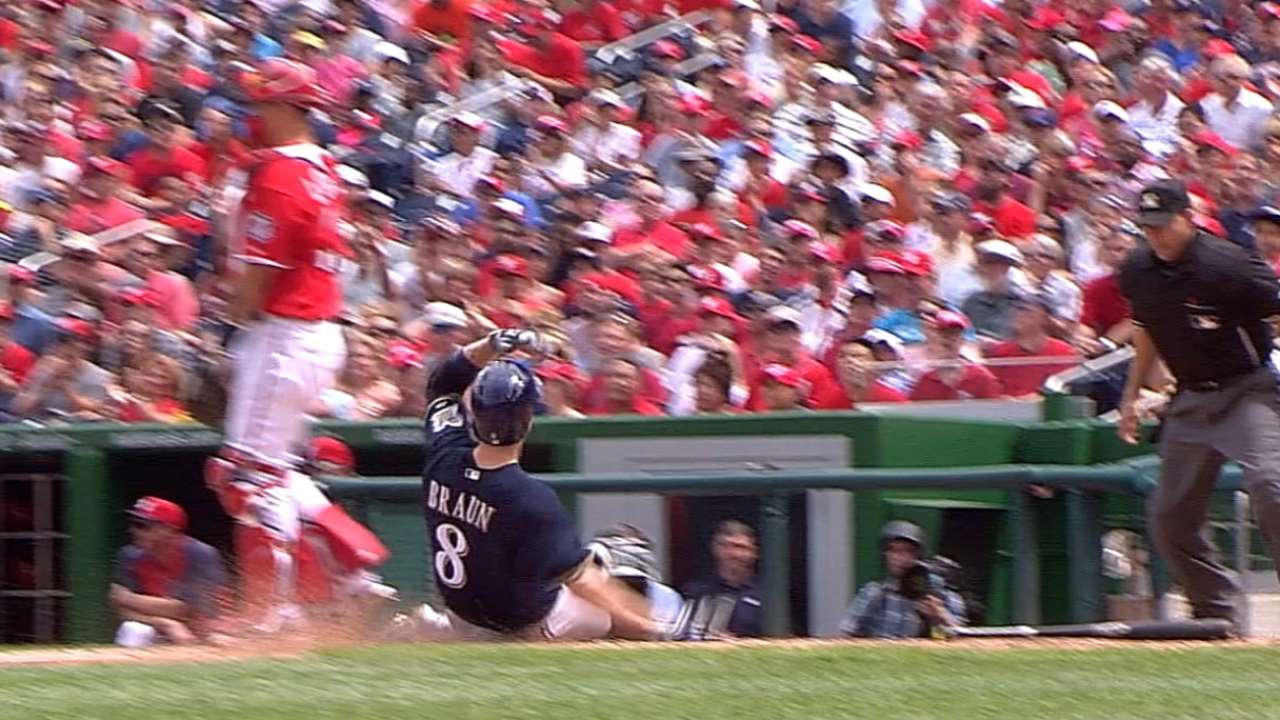 WASHINGTON -- Bob Uecker could have consulted his dog-eared script from 1989's Major League when the Brewers lifted the film's final scene to score their first run against the Washington Nationals on Sunday.
Only this time the speedy outfielder at second base was Ryan Braun instead of Willie Mays Hayes, and the catcher standing in the batter's box was Jonathan Lucroy instead of grizzled old Jake Taylor. Instead of "Taylor bunts!" Lucroy hit a tapper to the first-base side of the mound, where Nationals starter Gio Gonzalez picked it up and threw to first base for an out.
Meanwhile, Braun was running like Hayes. He never slowed around third base, and was so far down the line when Nationals first baseman Adam LaRoche noticed, it was too late to try a play at the plate.
"I was running on the pitch, so I knew I had a pretty good jump, and from that point, it's just kind of instinctual," Braun said. "You pay attention to the play, have an idea who the pitcher is, who's at first base, and ultimately if I'm able to get a jump and they don't look me back, it's an opportunity steal a run. I've done it a few times this year on similar plays.
"More than anything, it's about being prepared. You never know when you're going to have a chance to take an extra run."
When Jean Segura had that chance an inning later, when he broke from third base the moment Nationals shortstop Ian Desmond fired a throw to first to retire Carlos Gomez on a groundout. Desmond was playing in on the infield grass, but Segura was nonetheless able to slide home safely and temporarily extend the Brewers' lead to 3-1.
"You don't think [a player will score from second base on a swinging bunt], but that's where you hope guys have instincts like he did," Brewers manager Ron Roenicke said. "Just like 'Seggy' did on his ball that he went on. That's a real good job by those guys."
The Brewers did not do as good a job in the ninth inning, when Rickie Weeks was cut down at second base on the back end of a double steal, an out that loomed large in Milwaukee's 5-4 loss.
Adam McCalvy is a reporter for MLB.com. Read his blog, Brew Beat, and follow him on Twitter at @AdamMcCalvy. This story was not subject to the approval of Major League Baseball or its clubs.