Award-winner Lucroy wants to play through funk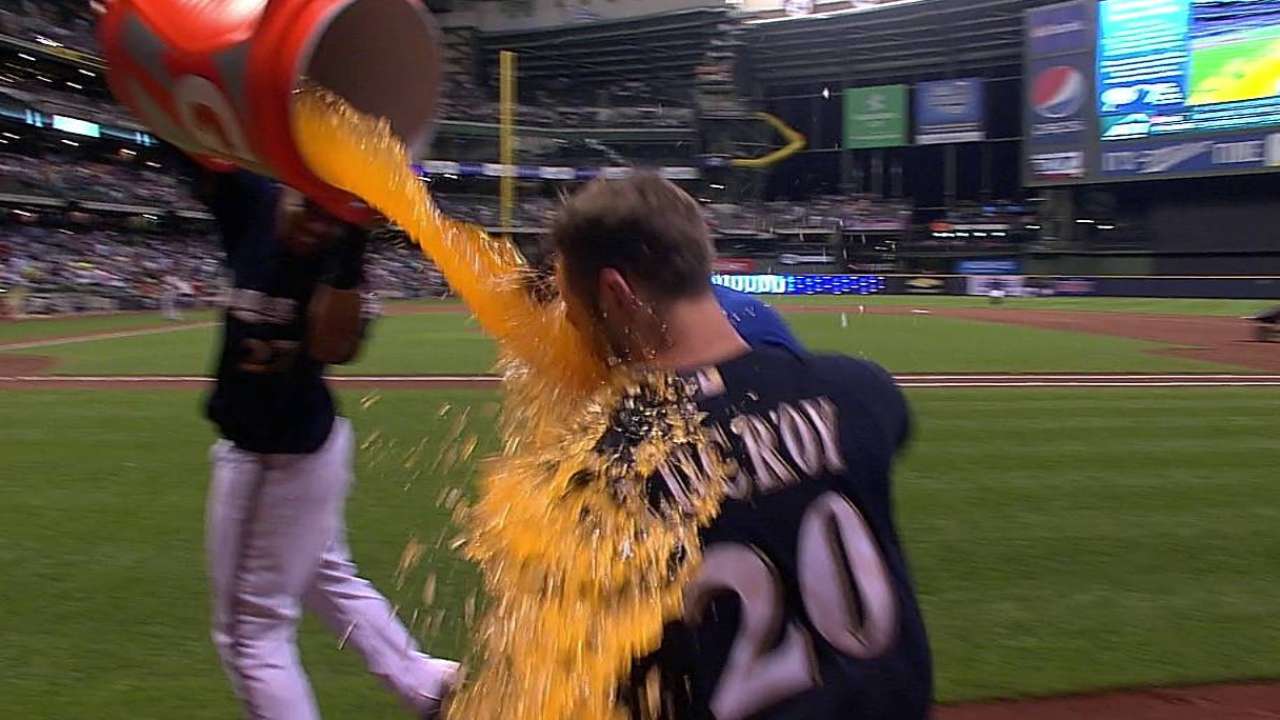 MILWAUKEE -- On the same day he was honored for his heart and hustle, catcher Jonathan Lucroy insisted that he has plenty of energy in reserve to play through the dog days of summer.
Then he showed it.
Lucroy, announced on Tuesday as the Brewers' winner of the Major League Baseball Players Alumni Association Heart and Hustle Award, snapped out of a recent funk with a pair of solo home runs, including a blast in the ninth inning that gave the Brewers a 4-3 walk-off win over the Reds at Miller Park.
It was Lucroy's second career walk-off home run, both against Cincinnati. This one was against Sam LeCure. The first came last Aug. 16, off Aroldis Chapman.
"I'm just glad to hit the ball hard a couple of times," Lucroy said. "The last couple of weeks have been kind of tough, making solid contact."
Lucroy has started all but 10 of the Brewers' 101 games and played in 93 of them. He still has the Brewers' best batting average, at .310, but he had watched it fall from .340 over a 25-game stretch entering Tuesday in which he batted .221 with a .661 OPS and only eight RBIs.
"I feel pretty good, body-wise, I feel sharp and everything. It's just one of those things that happens," said Lucroy, whose solo homer in the sixth inning was his first since July 4. "You can't hit .350 all year. It's kind of hard. There's pretty good pitchers out there. Just keep playing hard.
"You don't make any money if you don't play, so I've got to go out there and play every day. I feel that I can compete at the highest level every day I go out there, barring a broken bone or I'm bleeding somewhere. I feel like I should be in the lineup every day."
Like many players, Lucroy keeps his body fresh with hot/cold immersion therapy, in which he alternates between hot and cold baths several times to increase blood flow. He's also considering investing in a hyperbaric chamber, which other players -- including center fielder Carlos Gomez -- have found helpful.
"It's not really even the physical part. It's the mental grind," Lucroy said. "Whenever you go two weeks and you've won three games in two weeks, it's kind of mentally draining, you know? After a while, I guess a mental break would be welcomed. The physical part is fine; I'm not worried about that. The mental grind of it -- going out there and calling games and getting beat, sometimes it's tough to deal with."
The Brewers could give Lucroy a break without losing his bat in the lineup by using him more often at first base, where he's started six times this season and 15 times over the past two.
But manager Ron Roenicke feels no need to begin limiting Lucroy's playing time.
"We talked yesterday about when we think he needs a day off or maybe about putting him at first base," Roenicke said. "It's kind of ongoing of what we see throughout the season. Some guys stay strong and don't show any evidence of getting tired. We'll be talking to him."
What's Lucroy's evidence?
"He's fine," Roenicke said. "You can't go by the offensive part, where he hasn't swung that well for a couple of weeks. He didn't start swinging that well either. I think it's just one of the things he's going through. He'll start hitting again."
The award he received on Tuesday is billed as the only one voted on by former players. An overall winner from among the 30 club selections will be chosen in November. Last year it went to Dustin Pedroia of the Red Sox.
"He has a tremendous passion for the game," said FOX Sports Wisconsin analyst Dave Nelson, who led the committee that picked Lucroy. "He plays the game the way it should be played, and exemplifies leadership on and off the field."
Adam McCalvy is a reporter for MLB.com. Read his blog, Brew Beat, and follow him on Twitter at @AdamMcCalvy. This story was not subject to the approval of Major League Baseball or its clubs.