Jeffress latest mentee of Dabney to debut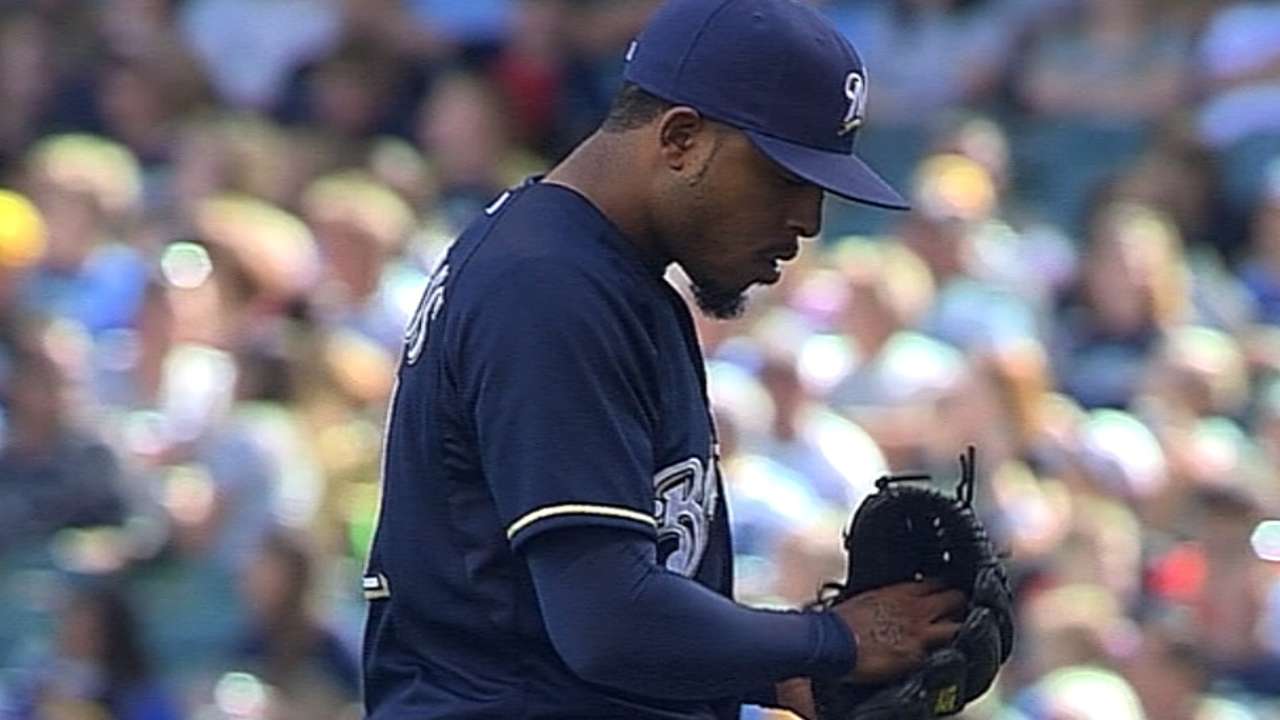 MILWAUKEE -- Could Jeremy Jeffress be the latest late-bloomer to find success in the Brewers' bullpen after a visit with a certain Minor League pitching coach?
Fred Dabney has previously had a hand in similar successes. The 46-year-old has been coaching in Milwaukee's Minor League chain since 2004, and he played a prominent role in John Axford fixing the command problems that nearly led him to give up baseball, and Jim Henderson developing a slider. Both wound up having successful stints as Brewers closer.
Now comes 26-year-old Jeffress, a former first-round Draft pick of the Brewers who had mixed results with the Royals and Blue Jays over the past three-plus seasons before a return engagement in Milwaukee. He posted a 1.51 ERA in 30 appearances at Triple-A Nashville, where Dabney is in his third season as pitching coach, before debuting with the Brewers on Wednesday with a dominant ninth inning against the Reds. Jeffress finished a 5-1 Brewers victory with a 100-mph fastball.
"It's not only Fred but everybody who had a hand in his development, including managers," said Brewers bullpen coach Lee Tunnell, who previously served as the organization's Minor League pitching coordinator. "When we had [Jeffress] after he was first drafted, his arm slot was higher then. Somewhere along the line, somebody got him to lower his slot a little bit. We're really happy for him.
"Fred does a great job with preparing guys for the big leagues. It is good to hear players appreciate the help they've had. You want to be confident and have pride in what you do, but humility is just giving credit where credit is due. That requires some maturity, so J.J. [Jeffress] has done a good job with that. Timing is everything."
The same went for Axford, who was tending bar and selling cell phones before earning a chance with the Brewers beginning in 2008, and for Henderson, who spent 10 years in the Minor Leagues before breaking into the big leagues with the Brewers in 2012.
They both earned their way to the Major Leagues, just like Jeffress, with Dabney playing a supporting role.
"He worked with me in high-A ball and he worked for me in Triple-A. He's a great pitching coach," said Brewers coach Mike Guerrero, another long-time organizational man. "He knows the ability of the pitchers, and he attacks. He's a hard worker. If there's something he doesn't like, he goes after it and keeps working on it until it begins to work. The main thing is that pitchers, they trust him. They trust him because the majority of the pitchers know he's been with the organization a long time. He knows the guys, and he knows what we're looking for."
Adam McCalvy is a reporter for MLB.com. Read his blog, Brew Beat, and follow him on Twitter at @AdamMcCalvy. This story was not subject to the approval of Major League Baseball or its clubs.