Nelson's focus on upcoming start amid trade rumors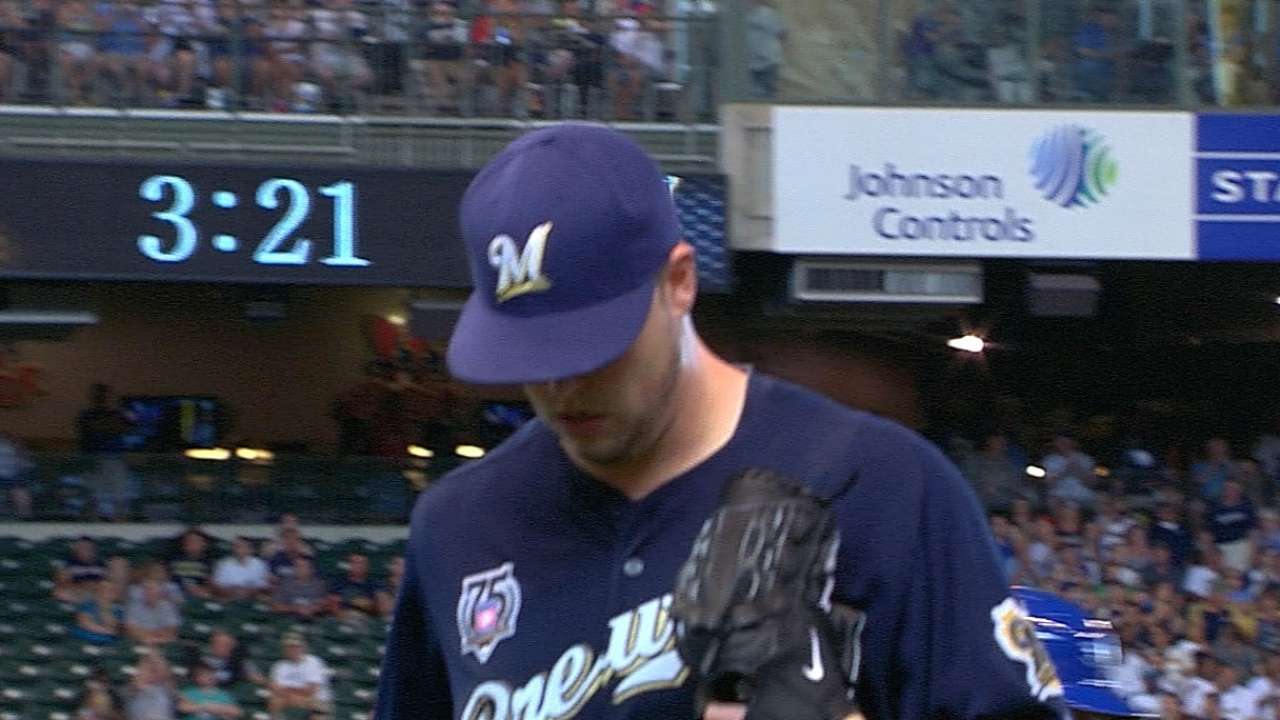 ST. PETERSBURG -- As his name churns around baseball's rumor mill, Brewers right-hander Jimmy Nelson insisted he's only thinking about the St. Louis Cardinals.
That's Nelson's scheduled opponent on Saturday at Busch Stadium, assuming none of the proposals being bantered about come to fruition before Thursday's 3 p.m. CT non-waiver Trade Deadline. Every time the Brewers are linked in a report to a notable player -- Tampa Bay's David Price and Boston's Jon Lester chief among them -- the proposed cost seems to start with Nelson.
"That's just one of those peripheral things you can't pay attention to," the right-hander said.
Nelson is a perfectly logical place to start when discussing the Brewers' hopes of attracting an impact player in a trade. He is 25 years old, under club control for at least the next six years, and was 10-2 with a 1.46 ERA at Triple-A Nashville before a promotion to Milwaukee just before the All-Star break.
In his first four Major League starts this season, Nelson is 1-2 with a 4.30 ERA, and appreciates his first extended stint in the big leagues because it's allowing him to settle into a routine for the first time.
Does the Trade Deadline ever come up during the pitchers' afternoon workouts?
"No, not really," Nelson said. "We're in first place right now, and we're trying to put our focus on staying there. We like the group of players we have here."
That attitude was welcomed by Brewers manager Ron Roenicke.
"He's more concerned about trying to pitch the way he wants to pitch. He's pretty focused," Roenicke said. "So I think he's fine. The conversations inside with him are basically the same."
Speaking generally about the Deadline, Roenicke said, "It's good for the buzz and the fans and what's going to happen. [Fans] can get involved more. But it's hard on a player. Really, you think about it, a player has maybe come up through the Minor League system with that team and he's been there a few years, and all of a sudden he's thinking about, 'Wow, I may have to leave here.' That's hard on a player. I think a lot of guys will be relieved when Thursday is over."
Adam McCalvy is a reporter for MLB.com. Read his blog, Brew Beat, and follow him on Twitter at @AdamMcCalvy. This story was not subject to the approval of Major League Baseball or its clubs.