Peralta quietly taking his place among elite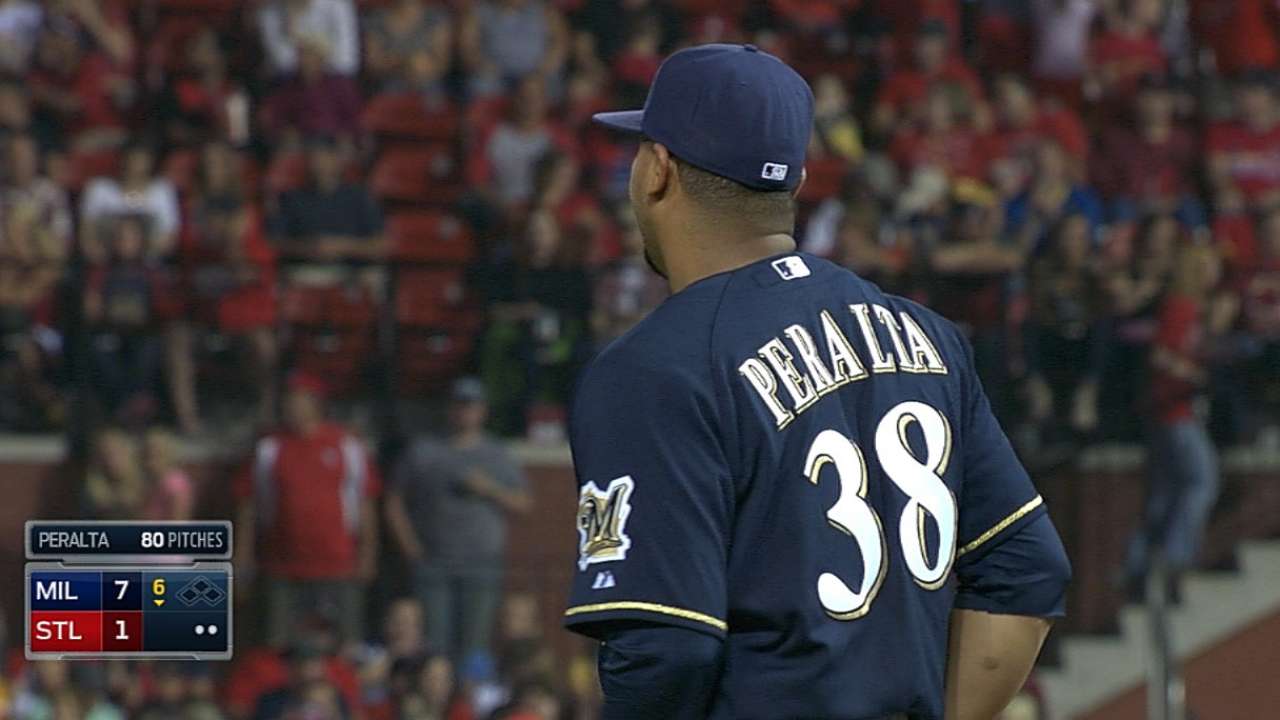 ST. LOUIS -- Considering that Wily Peralta wasn't aware on Saturday that he is tied with a trio of Cy Young Award winners for the Major League lead in victories, he was certainly not aware how rare finishing the season at the top of the leaderboard would be in Brewers history.
Only once in the first 44 seasons of Brewers baseball has one of their own led his league in victories. That was in the strike-shortened season of 1981, when Pete Vuckovich won 14 to tie Baltimore's Dennis Martinez, Oakland's Steve McCatty and Detroit's Jack Morris atop the American League. Cincinnati's Tom Seaver led the National League that season, also with 14.
It would take a strong finish for both Peralta and his team, but the second-year right-hander has at least an opportunity to match Vuckovich. He allowed two runs in 6 2/3 innings of Friday's 7-4 win over the Cardinals, giving him 13 victories in his first 22 starts.
The other pitchers with 13 wins are the Dodgers' Clayton Kershaw, the Cardinals' Adam Wainwright and the Tigers' Max Scherzer.
"Whew!" Peralta said. "I didn't know. That's a few Cy Young guys. That's what I've been working for. I've improved in pretty much everything. My command has been unbelievable this year, and that's something I was struggling with last year. I was working behind the counts on hitters. I said in spring that was one of my goals -- attack hitters."
Peralta has a 3.52 ERA, and he has gone 4-0 with a 1.71 ERA in the four starts he's made since a nine-run blowup against the Phillies on July 8.
The league is taking note.
"I think last year he started to figure things out, [in the] second half especially," said Wainwright, who was on the losing end on Friday night. "He's just got such a great fastball sitting at 96 [mph], with some very good movement on it. He's obviously stepped his game up."
The Brewers tend to keep their starters in order through off-days, so Peralta has about 10 starts remaining. He could be the fourth 20-game winner in franchise history, a number not reached since Teddy Higuera went 20-11 (including 15 complete games) in 1986.
Peralta is also on track to becoming just the eighth 18-game winner in Brewers history. Chris Capuano (18-12 in 2005) is the only Milwaukee pitcher to win that many since 1987.
Although it's rare for a Brewers pitcher to lead his league in wins, it's not unprecedented in Milwaukee's history. Hall of Famer Warren Spahn either led the NL or tied for the lead six times with the Milwaukee Braves from 1953 to 1961, including a '59 season in which he and teammate Lew Burdette matched Sam Jones of the Giants with 21 wins.
Adam McCalvy is a reporter for MLB.com. Read his blog, Brew Beat, and follow him on Twitter at @AdamMcCalvy. This story was not subject to the approval of Major League Baseball or its clubs.