Gennett, Segura leg issues raise red flags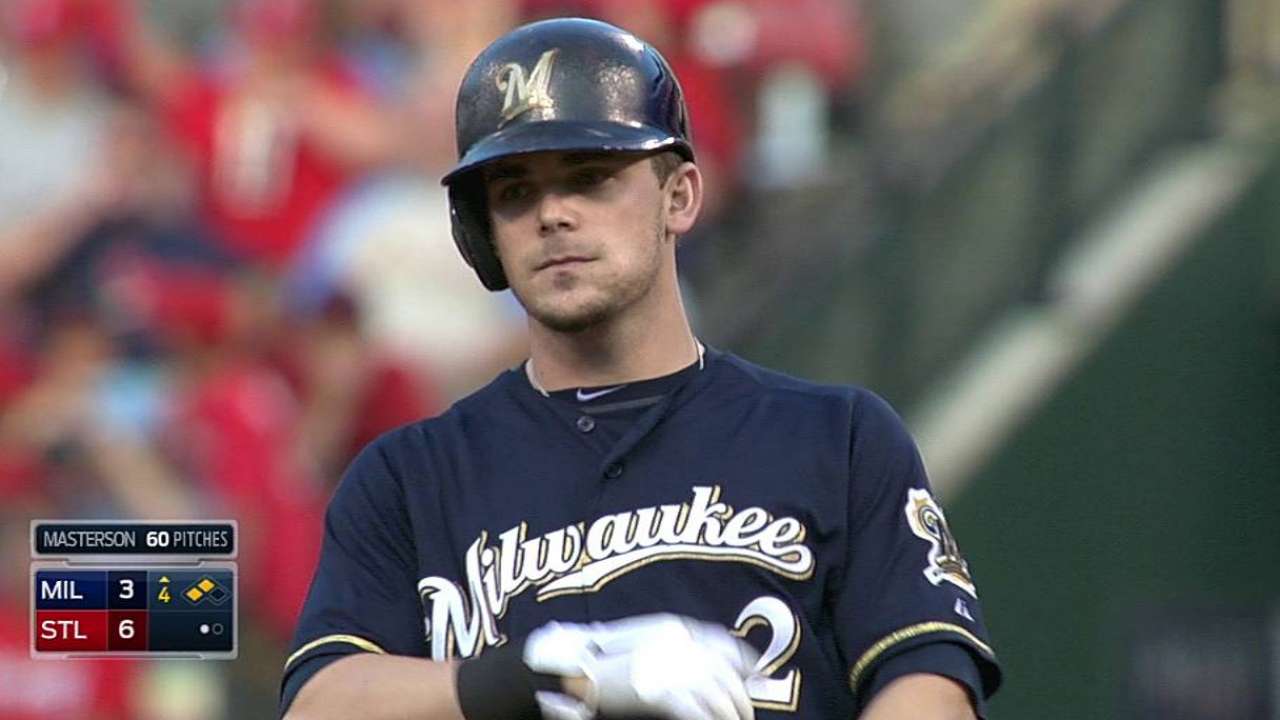 ST. LOUIS -- With two important months remaining in the season, the Brewers have some concerns about the lingering leg issues dogging their young double-play combination.
Both second baseman Scooter Gennett (right quadriceps) and Jean Segura (left quadriceps) were sidelined Sunday against the Cardinals after previous injuries flared up in Saturday's loss at Busch Stadium. Each issue is considered minor, but their nagging nature has manager Ron Roenicke a bit worried.
Gennett tweaked his leg trying to beat out a double-play grounder in the second inning, and he exited the game in the sixth.
"It's to the point where I don't like him out there, knowing that he can't go full-out all the time," Roenicke said. "Like I told him, he can control it a little bit running the bases, but, OK, you've got a ground ball that you have to go in the hole for, you've got a popup behind you that you know is a big play, so what are you going to do? You've got to go. That worries me."
Gennett originally tweaked his quad in the second game after the All-Star break. Segura has been dealing with his similar issue since June 28.
"I'm hoping these two days [the Brewers are off Monday] will help these guys," Roenicke said. "It is the time of the year where you have some things that seem to linger on. I don't think we can afford to lose either one of them for a long period of time, so you try to be careful with them."
He added: "These guys understand where we are in the season and how important the wins are, and they're thinking they can play with the little stuff that they've got going on. That becomes my hardest thing, is when do I need to get them out, and when are we OK?"
Gennett wondered aloud whether his sore leg would linger for the rest of the season.
"I just need to watch out, how much I'm using it," he said. "I can't go out all-speed every time. That's usually how I play, I'm running out every ground ball no matter what the case is. I think the only time I don't run the ball out is when there's a runner on first and I pop out and there's nowhere for me to go. I just have to watch, have to be smart."
Would it help to take off an extended stretch?
"I did. I took, like, five days off, and it felt good. Then it just got a little tight on me again," Gennett said. "I think it's just one of those things where us as players learn how to play through some things. At the same time, if I get on and I'm the winning run and I'm at second base, I don't want to not be able to score for my team. I think that's where we all have to be smart. I'll have to communicate well with them to let them know how I feel. Right now, it's not the right time to have a serious injury."
Also on Saturday, right-hander Kyle Lohse rolled an ankle retrieving left fielder Gerardo Parra's second-inning throwing error and was sore the following morning, Roenicke said. He was not sure whether it affected Lohse during the rest of his four-plus inning outing.
Adam McCalvy is a reporter for MLB.com. Read his blog, Brew Beat, and follow him on Twitter at @AdamMcCalvy. This story was not subject to the approval of Major League Baseball or its clubs.