Jeffress hears calling to be closer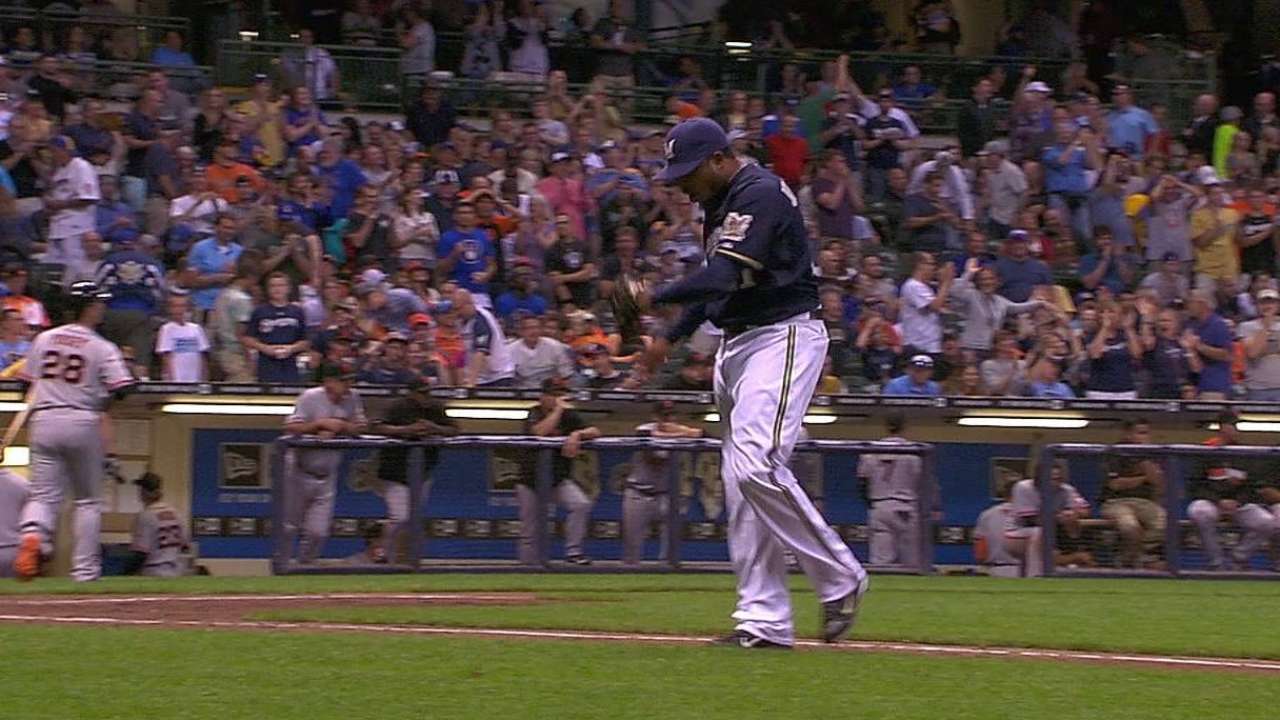 MILWAUKEE -- Jeremy Jeffress is so thoroughly enjoying his emergence as one of the Brewers' late-inning bullpen options that he can envision a future as a Major League closer.
"In my heart, I see it. I see a closing role," Jeffress said. "But I still have some work to do. Still a couple more winter balls to go to, if I can, to see if I can get it right. Get the consistency going, get in more tight games.
"I feel like this is the calling."
Jeffress was a first-round Draft pick of the Brewers out of high school in 2006 and returned to the organization earlier this year after brief -- and mostly unsuccessful -- stints with the Royals and Blue Jays. He pitched his way back to the Major Leagues with a fastball that touches triple digits on the radar gun, and posted a 1.29 ERA in his first eight Brewers appearances, stranding three of four inherited runners.
Because of the team's need for a reliable right-handed setup man, Jeffress faced four batters on Thursday in the seventh and eighth innings of a two-run victory over the Giants.
"I think any time you see a guy's arm and what kind of fastball he has, it is always a possibility [to close someday]," manager Ron Roenicke said. "Not that every closer has to throw that hard -- there's some great ones that don't. But yeah, I think you look at his stuff and say someday, if he gets command -- and, really, command over the breaking ball, because we know the fastball is good -- then he has a chance to do pretty much anything."
What's changed from Jeffress' tenures in Kansas City and Toronto?
He cites, simply, opportunity.
"Not opportunities to be on the team, because I broke camp with [the Blue Jays] twice, but pitching opportunities," Jeffress said. "Three outings weren't enough for me to get comfortable. Here, I'm comfortable. I'm in good situations. Ron is trusting in me a lot. That's one of the biggest things you need to go out and do your job."
The Blue Jays actually played a significant role in Jeffress' re-emergence with the Brewers, as they encouraged him to drop his arm slot, which led to better command. They also sent him to the doctor who provided answers for Jeffress' long battle with seizures, and put him on a medication that stopped them.
Adam McCalvy is a reporter for MLB.com. Read his blog, Brew Beat, and follow him on Twitter at @AdamMcCalvy. Caitlin Swieca is an associate reporter for MLB.com. This story was not subject to the approval of Major League Baseball or its clubs.