Hitless in Minors, Nelson doubles off Kershaw
Brewers rookie right-hander extends hitting streak to three games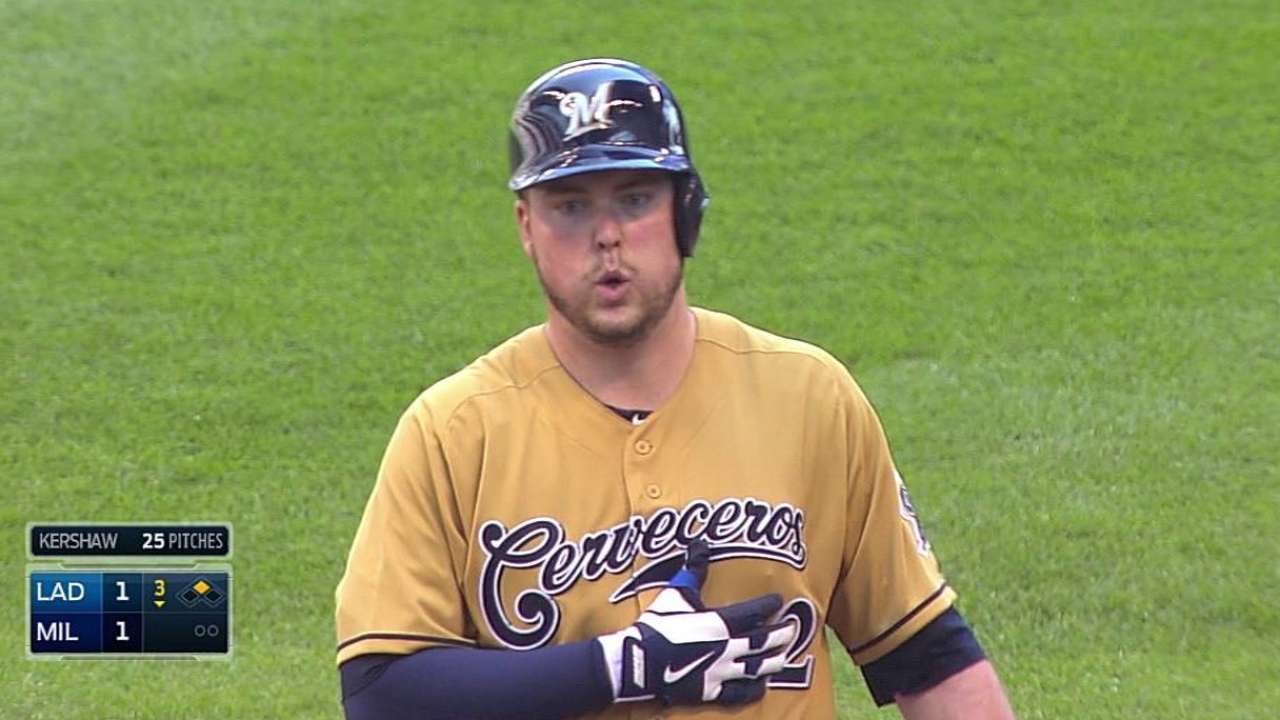 MILWAUKEE -- -- Brewers rookie starting pitcher Jimmy Nelson doubled in Sunday's 5-1 loss against the Dodgers to extend his hitting streak to three games, which might not sound all that notable until you consider how he started.
Entering a July 27 start against the Mets at Miller Park, Nelson was 0-for-66 at the plate -- 0-for-59 in the Minor Leagues and 0-for-7 in the Majors. He singled that day against Mets right-hander Jacob deGrom, singled again Aug. 5 against the Giants' Tim Lincecum, and doubled in his first at-bat Sunday against Dodgers ace Clayton Kershaw.
Recapping: Nelson went from hitless over parts of five years to a three-game hitting streak against deGrom, who has garnered some National League Rookie of the Year buzz, and two Cy Young Award winners who have thrown no-hitters this season.
What does Nelson make of his first professional hitting streak?
"I don't know. That's just irony, really," Nelson said. "I got up here and got some tips and we hit BP every day. That's progressing as well."
Nelson's double in the third inning was only the second hit by a pitcher off Kershaw this season, and the first extra-base hit. It was the fourth ever extra-base hit by a pitcher against Kershaw, and the first since 2012.
Alas, Nelson didn't last long at second base. He broke for third on a bouncer to the shortstop and was out easily, the first of two Brewers outs on the basepaths in what became a scoreless inning.
"Jimmy Nelson isn't used to being out there on the bases," Brewers manager Ron Roenicke said of the out. "That's always difficult."
Adam McCalvy is a reporter for MLB.com. Read his blog, Brew Beat, and follow him on Twitter at @AdamMcCalvy. This story was not subject to the approval of Major League Baseball or its clubs.