Braun out of lineup with lingering thumb issue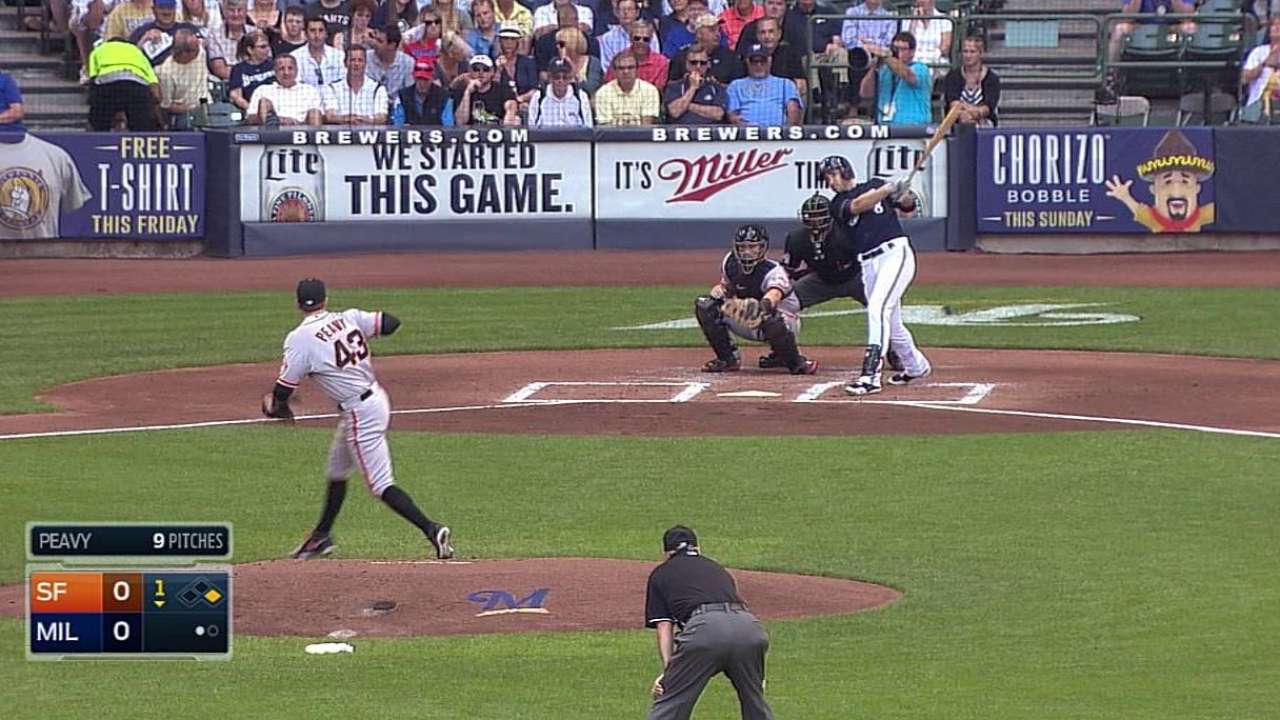 CHICAGO -- Little has changed since Ryan Braun first spoke in depth in early April about the nerve issue in his right hand that has bothered him since last season. It still flares up on occasion, forcing him out of the lineup as it did Thursday for the first time in a month. And there is still no definitive answer for how to fix it.
"We've discussed a lot of different options," said Braun, who is under contract through at least 2020. "We've looked into a lot of different things. We're constantly evaluating it. We've talked to a lot of people.
"There's some thought that it could just eventually go away. And I think if there was a surgery that everybody was really confident would heal the injury and there wouldn't be any side effects, we would have already done it. But because it isn't something there is a lot of information on, it's not something that's been done often -- we just need to continue to gather information. It's not like I can't play. I obviously can play."
Braun has started 98 of the Brewers' first 122 games and batted .279 with 14 home runs and 67 RBIs.
Brewers manager Ron Roenicke didn't like the defensive swings he saw from Braun in Wednesday's 4-2 loss to the Cubs, so he held his three-hole hitter out of the lineup for Thursday's afternoon finale. Braun had one hit in his first 12 at-bats in the series.
"A week ago, he was swinging the bat great," Roenicke said. "Probably the last four, five, six days, somewhere in there, it's been bothering him. If he has a couple at-bats where he doesn't square up the ball right, sometimes it flares it up, and then you see difference in swings, which I saw [Wednesday] -- a lot different swings from him."
Braun has experienced pain in the hand since last May resulting from an inflamed nerve near the base of his right thumb. Because none of the surgical options were guaranteed to work, the hope was that an extended shutdown period from the start of Braun's suspension last July into Spring Training in February would resolve the issue, but it did not.
He remains a vital and expensive piece of the Brewers' future plans. Braun will earn $12 million next season before his salary jumps to $19 million in 2016 at the start of a five-year, $105 million contract extension.
Over the course of this season, Braun has worked with medical director Roger Caplinger, head athletic trainer Dan Wright and other members of the Brewers' medical staff to develop methods of padding his bat without costing him "feel" during at-bats.
"At this point, my only focus is dealing with it the best we can, managing it," Braun said. "The trainers have been great. We're trying to stay on the field and compete the best I can.
"Like I've said many times, we all deal with challenges physically, and this game is all about making adjustments. We all have different ailments, especially as you get to this point in the season. This is a unique and challenging one, because at times it really alters the way I hold the bat, the way I swing, my approach and some different things. It's frustrating, but I try to deal with it the best I can."
Adam McCalvy is a reporter for MLB.com. Read his blog, Brew Beat, and follow him on Twitter at @AdamMcCalvy. This story was not subject to the approval of Major League Baseball or its clubs.