Garza improves; Brewers to skip Lohse's turn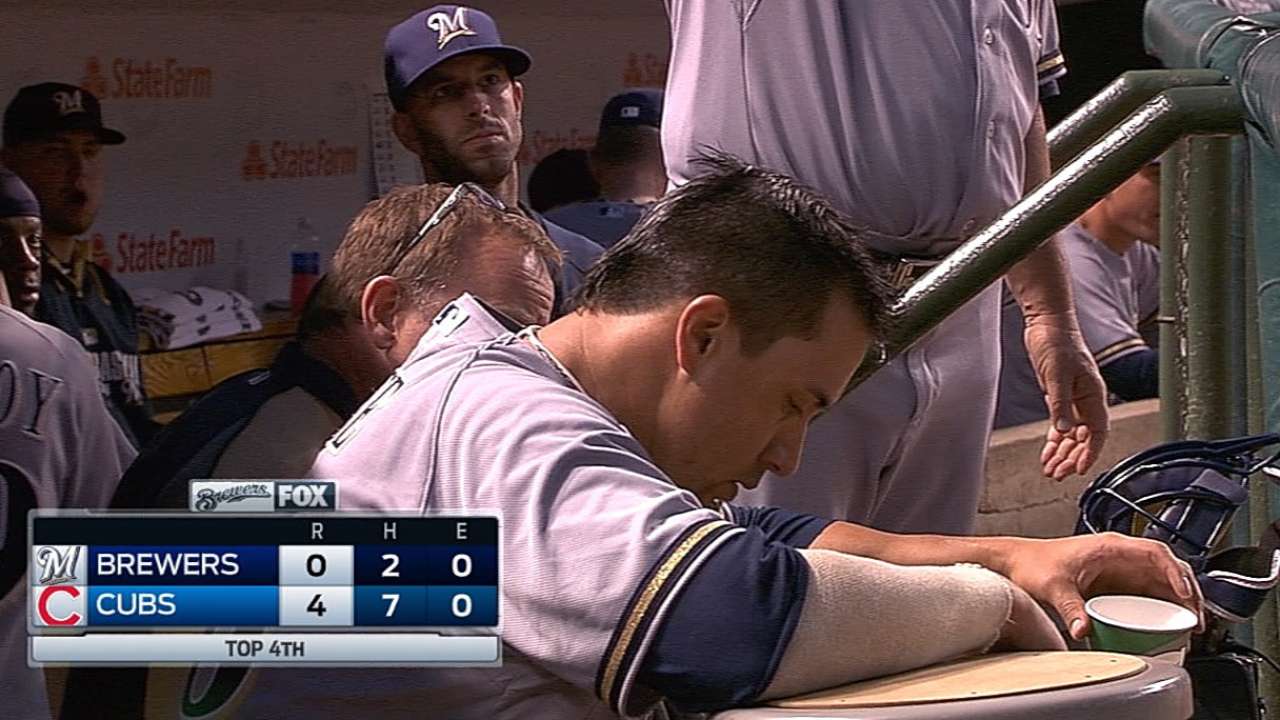 LOS ANGELES -- On the same day Matt Garza played catch for the first time since suffering a rib cage strain, the Brewers announced they would skip Kyle Lohse's next start to allow the right-hander time to heal a sprained right ankle.
Lohse was originally scheduled to start Tuesday against the Blue Jays. Mike Fiers will now make that start -- on regular rest, because of the team's off-day on Monday -- followed by Jimmy Nelson on Wednesday. The Brewers are off again Thursday, allowing additional flexibility.
"I'm not exactly sure where [Lohse] goes back in," manager Ron Roenicke said. "It will really depend on how the ankle is and where we see that he's close to 100 percent. He probably won't be 100 because once you sprain it -- but we want to get him to the point where we're comfortable with putting him out there."
Lohse rolled his right ankle during an Aug. 2 start in St. Louis and made two subsequent starts unable to properly push off the pitcher's mound. He exited his outing against the Cubs on Wednesday after aggravating the injury in the third inning.
"We have been having him go back out there and he hasn't felt right," Roenicke said. "So I want him to pitch well, too. I want to give him the best chance to perform well. He wants to be out there to help us, but we need him to pitch the kind of games that we're used to seeing him pitch. If we keep pushing him, putting him out there, we're not going to get the real guy."
Meanwhile, Garza played catch for about five minutes Friday for the first time since suffering a left rib cage strain on Aug. 3 in St. Louis.
"We wanted him to be without any pain before we started," pitching coach Rick Kranitz said. "There's really no sense in doing it any other way. … It shouldn't take him as long, because he's only been down [a short time] and he keeps in good shape."
Asked about a timetable for Garza's return, Roenicke added, "They're going to follow up on it [Saturday], and if [Saturday] goes well, then they'll write up a tentative plan. I think when they write it out, I'll have a better idea of what [the timetable] is going to be."
Adam McCalvy is a reporter for MLB.com. Read his blog, Brew Beat, and follow him on Twitter at @AdamMcCalvy. This story was not subject to the approval of Major League Baseball or its clubs.