Segura hurts hand while drawing interference call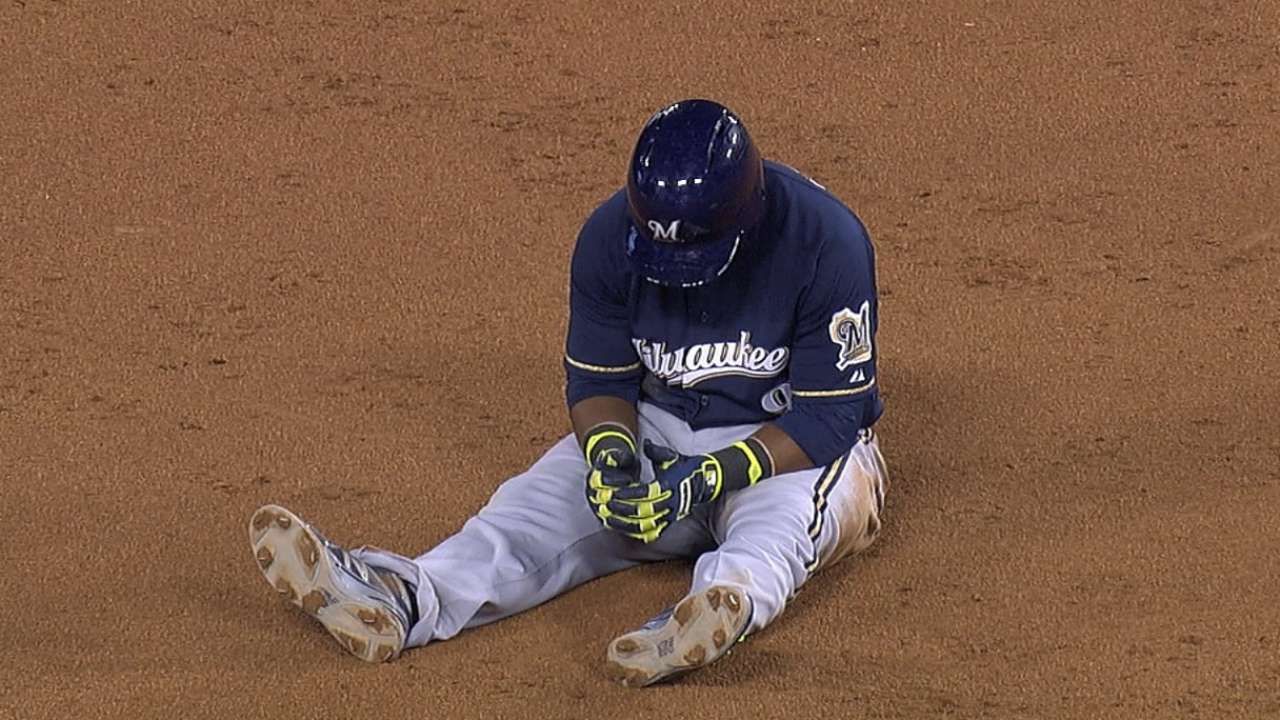 LOS ANGELES -- Brewers shortstop Jean Segura underwent X-rays on his right hand late Friday night after being called out as part of a painful double play in the seventh inning of a 6-3 win against the Dodgers.
Segura led off the inning with a walk and, after a Gerardo Parra popout, tried to break up a double play at second base on Carlos Gomez's grounder to second base. Segura was forced easily and shortstop Miguel Rojas' throw hit him in the right hand.
Segura was called out for interference, not for throwing up his hand, but for leaving the baseline, ending the inning and drawing a protest from manager Ron Roenicke.
"[Umpire Mike Estabrook] said he slid too far out of the baseline that he couldn't touch the base," Roenicke said. "Which, maybe, I don't know. I can't see exactly. I could see the skid marks, and his skid marks to where maybe he could have reached it.
"[Estabrook] said, 'And he threw his hands up.' So I said, 'Which one did you call?' He said, 'I called it because he slid too far out of the baseline.'"
The good news for the Brewers was that Segura's X-rays were negative. If he cannot play Saturday, Elian Herrera would start at shortstop in Segura's place.
"It got him pretty good, but it did get him in the meaty part," Roenicke said. "They did X-rays; he's fine. But he's going to be sore."
Adam McCalvy is a reporter for MLB.com. Read his blog, Brew Beat, and follow him on Twitter at @AdamMcCalvy. This story was not subject to the approval of Major League Baseball or its clubs.