Attanasio honored to interview for Commissioner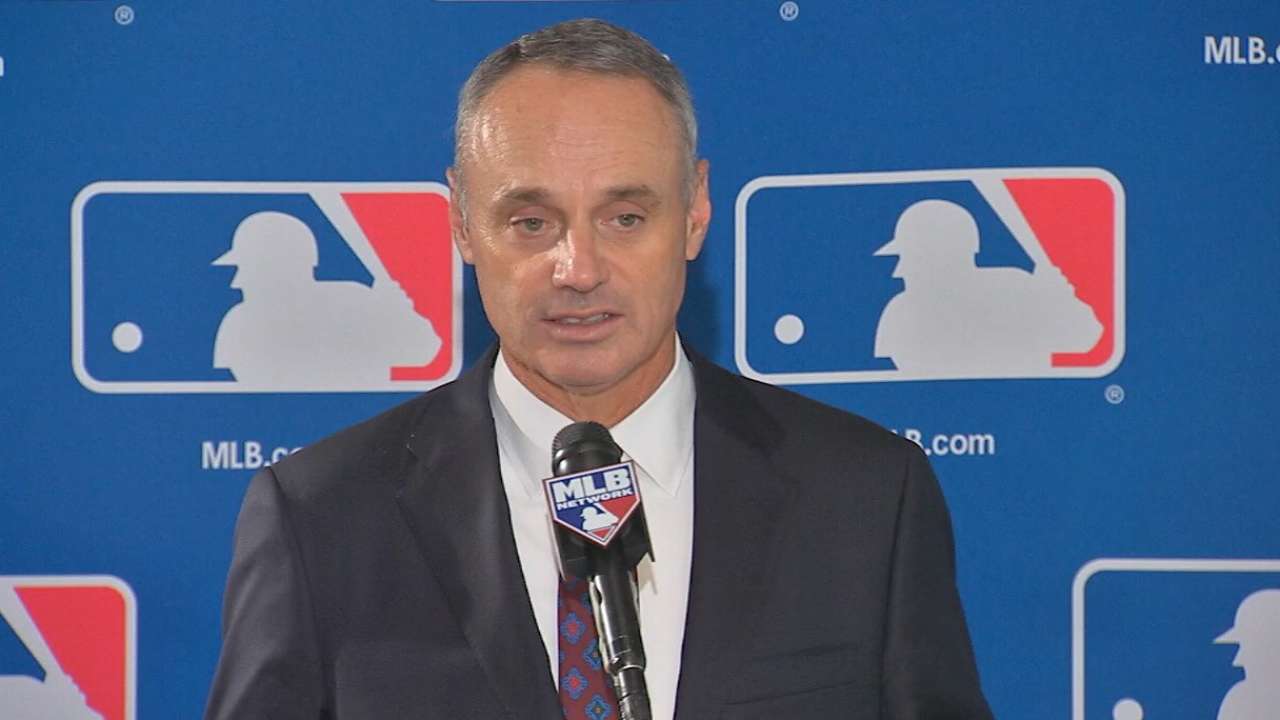 LOS ANGELES -- When you're asked to interview to be Commissioner of Major League Baseball, Brewers principal owner Mark Attanasio said Saturday, the proper response is always "yes."
Attanasio confirmed reports that he'd interviewed for the post, which was filled Thursday with the unanimous selection of Rob Manfred during a meeting in Baltimore of baseball's owners. Manfred will succeed a former Brewers owner, Bud Selig, in the post beginning Jan. 25.
In July, baseball's seven-man selection committee, headed by Cardinals chairman Bill DeWitt Jr., interviewed Attanasio for about 90 minutes at the New York headquarters of executive search firm Korn Ferry.
"Extremely flattering," said Attanasio, 56, who agreed to buy the Brewers from the Selig family in September 2004 and was approved by the other owners the following January. "I was honored to be there. If anybody says, 'Why did you do that?' I said, 'Basically, if you're involved in Major League Baseball and they invite you to be the Commissioner, I think that's a pretty easy answer.'
"Baseball had a very systematic, detailed screening process, and it resulted in having three candidates in front of us at the meetings in Baltimore last week."
They were Manfred, MLB's executive vice president of business Tim Brosnan and Red Sox chairman Tom Werner.
Brosnan dropped out shortly before the first ballot Thursday. The first several votes ended with Manfred getting 22 of 30 votes, one short of what was needed for election. After a brief recess, the owners reconvened around 5:30 p.m. ET and got to the finish line with Manfred an hour later.
Attanasio declined to say whom he backed in the initial vote but expressed confidence in the process. He also expressed strong confidence in Manfred.
"I think the unanimous vote was not only a vote of support for Rob Manfred, which he richly deserves," Attanasio said, "but it was a vote of confidence in how this process took place."
Asked whether he would be interested in the Commissionership should the post open in the future, Attanasio said, "We just had a terrific 20 [plus-] year run with Bud, and I'm rooting for another 20-year run for Rob."
With that major business of baseball aside, Attanasio has returned to the day-to-day thrill ride that is ownership of a franchise. His Brewers have led the National League Central outright or with company every day since April 5, but that tenure has not always been a breeze.
"I talk to the other owners about this; for all of us it's really a day-to-day anxiety," Attanasio said. "What you have is more relief than you have any kind of comfort. We have a lot of competitive balance, so you're always a bad week of not being in your position anymore."
Adam McCalvy is a reporter for MLB.com. Read his blog, Brew Beat, and follow him on Twitter at @AdamMcCalvy. This story was not subject to the approval of Major League Baseball or its clubs.