Amid historic run, Fiers tries not to look at numbers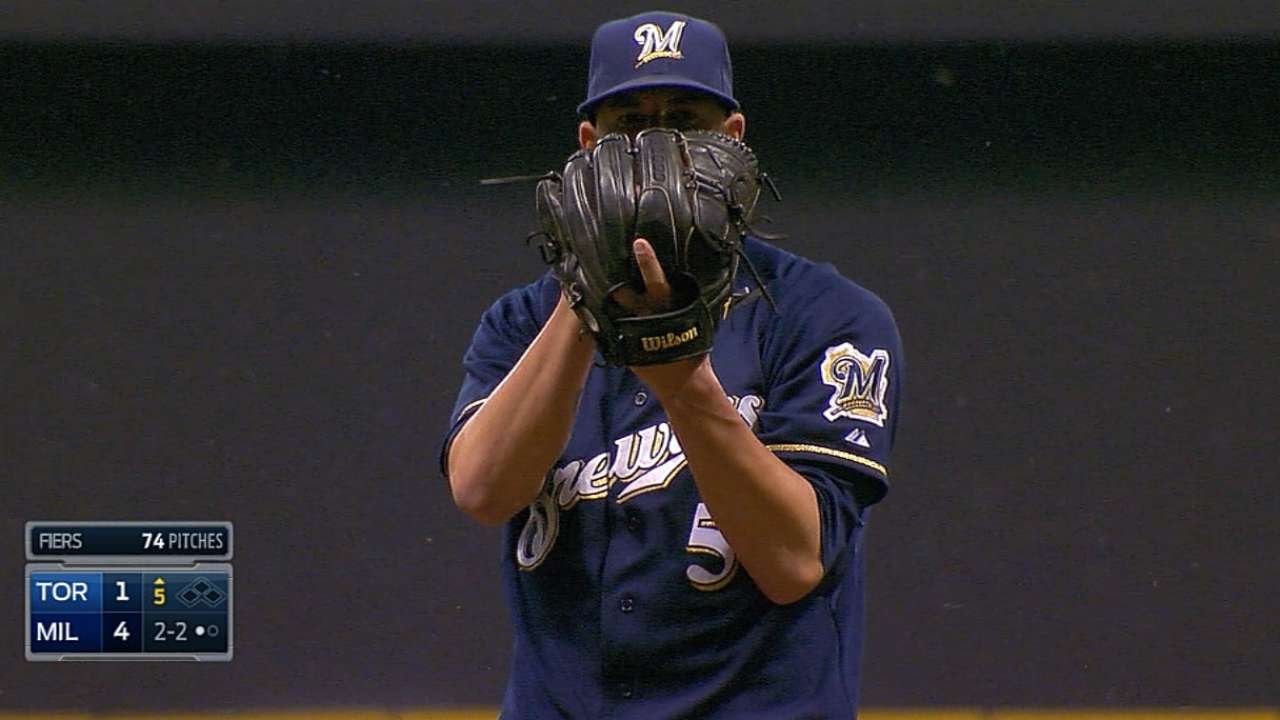 MILWAUKEE -- The numbers that Mike Fiers has put up in his first three Major League starts in 2014 haven't just been impressive; they've been downright historic.
The 29-year-old righty has won all three of his starts, allowing a total of two earned runs over 21 innings. According to Elias Sports Bureau, Fiers is the fourth pitcher in baseball history to allow two earned runs or fewer and eight or fewer total hits while striking out 25 or more through his first three starts of a season. His company in that category? Tom Cheney for the 1963 Senators, Nolan Ryan for the 1970 Mets and Matt Harvey for the 2013 Mets.
In the middle start of his three, Fiers struck out 14 Cubs, putting himself in elite company as he took only six innings to do it. Only seven other pitchers had thrown that many strikeouts in as few innings, among them Ryan, Kerry Wood, Randy Johnson and Max Scherzer.
"We've been on a good run here," Fiers said when read those numbers. "I mean, winning games is tough as it is in this league, and to put up numbers like that, it just adds on top.
"I don't really like looking at the numbers. I just want to go out and clear my mind for every start and just think of it as it is. Just start with a clean slate. I think if you look too far into your stats and say 'I'm doing this, I'm doing that,' it gets away from staying with the basics and throwing strikes down the zone, changing speeds and keeping hitters off-balance."
The run has been reminiscent of what Fiers did in his rookie year of 2012, when he threw six innings or more while allowing two earned runs or fewer in 10 of his first 12 starts.
"When we saw him come up two years ago and he was so good, this is what he was doing," said Brewers manager Ron Roenicke. "I do see him commanding the baseball better. Instead of just throwing the ball by a guy high, he's actually -- if [the catcher] is calling for it high and away -- he's hitting that spot. Before, we were just mixing up pitches and all his stuff was good, but I think he's commanding the ball better. That should make him a lot more consistent for what he does in the long range."
But down the stretch in 2012, Fiers faded. This time around, he feels he's better positioned to sustain this success, given what he's learned about the mental side of the game in his time since.
"Every start, every month, every year, I feel like I get better mentally and physically," he said. "Being up here, having the experience and taking what I'm doing right and seeing things I'm doing wrong and kind of changing those, getting better from it. It just helps, the experience."
For his part, Roenicke says he's happy to let the righty continue his hot streak.
"We don't want to tweak anything with him," Roenicke said. "I don't have conversations with him that much, other than to just ask him how he's doing. I don't bring up mechanics or anything. You just leave him be. You just let him go."
Fiers said maintaining an aggressive mindset will be the key to continuing his success.
"It feels the same [as 2012] in the fact that it feels like I'm being aggressive," Fiers said. "I think it got away from me a little early last year and maybe late in 2012, where I was trying to mess around too much and kind of giving hitters too much credit. These hitters are good, a lot of great hitters around here, but I've got to do what I can do. I can't worry about where they're going to hit the ball, what they're going to do. ... If I'm throwing all my pitches for strikes, I'm going to be fine."
Adam McCalvy is a reporter for MLB.com. Read his blog, Brew Beat, and follow him on Twitter at @AdamMcCalvy. Caitlin Swieca is an associate reporter for MLB.com. This story was not subject to the approval of Major League Baseball or its clubs.