Crew would like explanation on Friday's review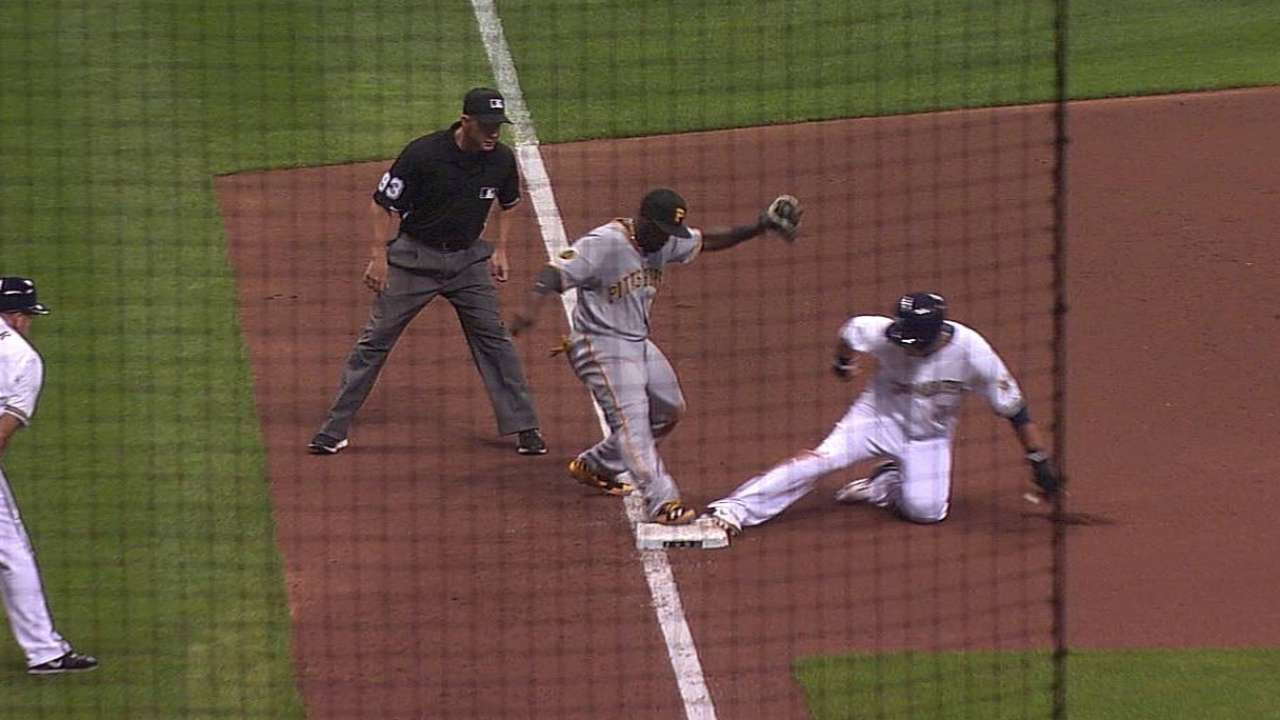 MILWAUKEE -- After losing a replay challenge in the sixth inning of Friday night's 8-3 loss to the Pirates, the Brewers will be making their second inquiry in the past month with Major League Baseball to seek further clarification on a reviewed call.
In the past, Brewers manager Ron Roenicke has said that he's a fan of the replay system, which is in its first year. But he has expressed frustration with the lack of explanation on close calls, and that sentiment was evident again before Saturday's game against Pittsburgh.
Friday night's challenge came with runners on first and second with two outs. Rickie Weeks hit a ground ball to shortstop Jordy Mercer, who threw to third baseman Josh Harrison to force out Aramis Ramirez. But Harrison was off the base when he received the ball and had to scramble to reach the bag. Roenicke challenged whether Ramirez beat Harrison to the bag with his slide, but the call stood, meaning there was not conclusive evidence to overturn it.
Under the current system, managers who take the field to argue after replay face ejection, so Roenicke was not able to ask what the replay officials in New York ruled on.
"I would have liked to have heard from New York as to what they saw," Roenicke said. "I don't think that's an obvious call. To say, 'Oh, they really blew it,' I wouldn't say that. But if you piece together two different angles that you can see, you can deduct he was safe. They told us in the review headquarters in New York, they told us that they do piece together two shots. They could have pieced together and come up with a better call."
Roenicke said Brewers general manager Doug Melvin had put in a request with the league to get further explanation. The team did the same back in July, when they disagreed with a hit-by-pitch call in a game against the Reds. Zack Cozart was awarded first base, though replays indicated the ball may have hit his bat before it hit his hand.
"They did give us a reason, it just wasn't the right reason," Roenicke said of the MLB explanation of that call.
Roenicke acknowledged that it would be difficult for umpires to explain the rationale for every reviewed call on a microphone, as is done in NFL games, because of how many baseball games there are every season and the delay it would create. But he said he'd like to be able to get an explanation from New York closer to real time, perhaps after the game in question.
"If we do that every single day with all the teams that play, it probably is a little overwhelming," Roenicke said. "But I think there's times when the audience should know what's going on and what they saw. And New York, I'm sure, doesn't want to be put on the spot to have to make that call and why they called it.
"I don't like the way it is, but we're still trying to tweak things. They understand. They're listening to us and what our concerns are, and we're trying to arrange it so we can get everything right."
Caitlin Swieca is an associate reporter for MLB.com. This story was not subject to the approval of Major League Baseball or its clubs.