Nelson open to bullpen role when Garza returns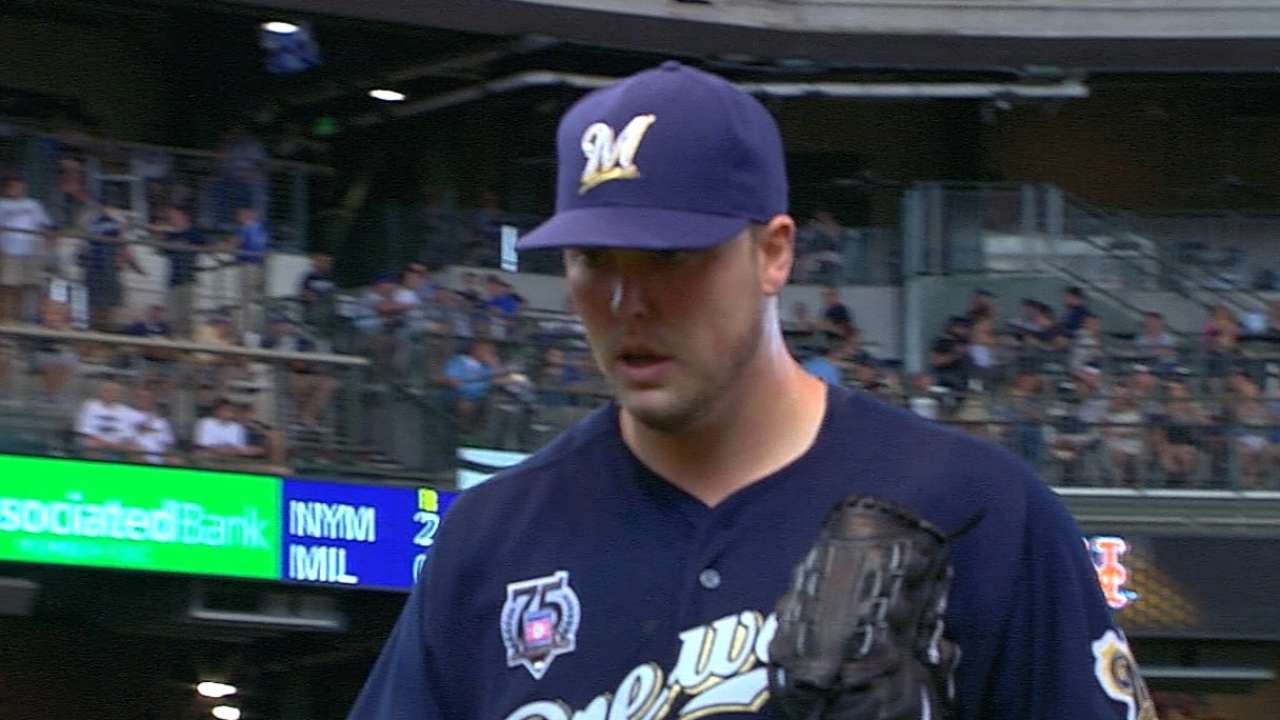 SAN DIEGO -- The Brewers are nearing the day they have more healthy pitchers than they have slots in the starting rotation. If that means someone has to go to the bullpen, Jimmy Nelson is open to the idea.
"Truthfully, it's so cliche, but whatever helps us win," said Nelson, scheduled to start against the Padres on Tuesday night. "Whatever helps us get to the playoffs and succeed in the playoffs. Whatever role it is, I just want to contribute to this team as best as I can, in whatever way that is.
"I just take the ball when I'm told to. It has to be [that mindset]. You can't start thinking about the outside stuff. It will get to you, and you'll lose your focus. You have to keep your focus."
Nelson joined the Brewers' rotation after Matt Garza suffered a left rib-cage strain in early August and, including a start earlier this season in Miami, is 2-4 with a 4.15 ERA. The other candidate to be bumped from the rotation upon Garza's return is Mike Fiers, who is 4-1 with a 1.54 ERA in eight games, four starts.
Garza is scheduled to throw a more intense bullpen session on Tuesday before Nelson starts opposite Padres ace Tyson Ross. Because of an off-day later this week, Nelson's next scheduled start would be against the Cubs on Sept. 1, the same day rosters expand.
The extra arms could allow the Brewers to reinstate Garza in place of Nelson on Sept. 1, knowing Garza will be on a limited pitch count. Or, they could opt to send him to the Minor Leagues for a tuneup, and bring him back later in the first week of September at closer to full strength.
Brewers manager Ron Roenicke was not ready to reveal the club's plan on Monday.
"We'll wait because things change so much," Roenicke said. "Obviously a few days away, you start talking about it. We're not quite there yet."
Nelson has made 17 professional appearances in relief, including three last September, and said he also pitched out of the bullpen a bit at the University of Alabama during his freshman and sophomore seasons, including stints as a closer. He certainly has the arsenal for it, working predominantly with a fastball/slider combination and only occasionally throwing his third pitch, a changeup.
"I'm thinking about [Tuesday]," Nelson said. "That's all I can do. Try to win today, first, then try to win tomorrow. I'm trying to prepare myself for these hitters and taking care of business."
Adam McCalvy is a reporter for MLB.com. Read his blog, Brew Beat, and follow him on Twitter at @AdamMcCalvy. This story was not subject to the approval of Major League Baseball or its clubs.