Rehabbing Garza ready to face hitters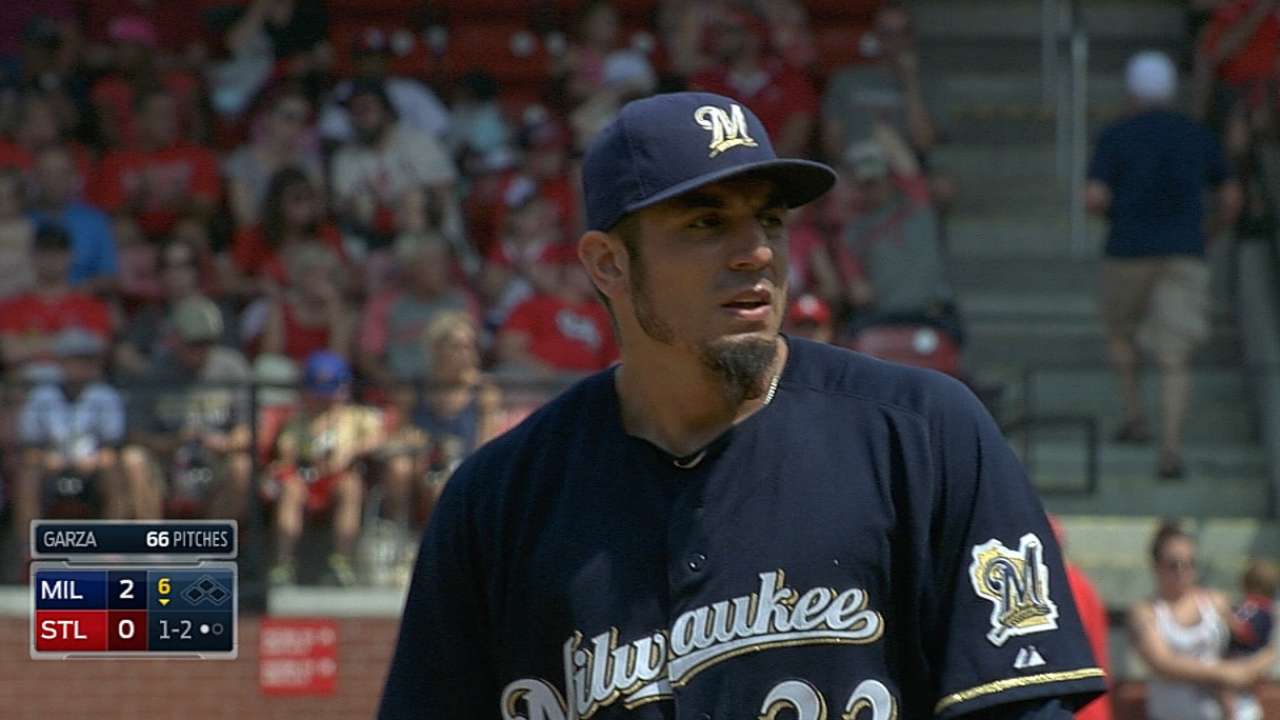 SAN DIEGO -- After what pitching coach Rick Kranitz described Tuesday as a "superb" bullpen session, Matt Garza was ready to face hitters.
Whether those hitters are stepping to the plate in a simulated game, a Minor League game or a Major League game remained to be revealed, but the bottom line for Garza was another big step toward the end of his stint on the disabled list for a rib-cage strain.
"It was superb. It was high intensity," Kranitz said. "It was exactly what we needed to see."
Said Brewers manager Ron Roenicke: "I'd say he's ready to go out somewhere. I'm pretty confident in what I saw today, but we'll wait and see [Wednesday], talk to him. … We've had different discussions on which way to go with it, whether you do a simulated or a rehab [assignment]. We've run them all by [Garza], and talked to Doug [Melvin, Milwaukee's GM] about it. We think we've come up with a good plan."
Garza has been sidelined since feeling a muscle grab along his left side during an Aug. 3 start in St. Louis. He took two weeks off from throwing before beginning an accelerated program that brought him to Tuesday's 35-40 pitch mound session.
"I've done it before so I know when not to push and when you can push it," said Garza, who was on the DL at the start of last season with a similar injury. "Right now, we're not at a time where we have to push it, so that's a positive thing. The guys [athletic trainers] are doing a great job, and it's just, come back healthy and strong and ready to go."
Because Garza's return coincides with the expansion of rosters, the Brewers have the option of restoring him to the rotation more quickly than they could at earlier stages of the season. Even if Garza is on a limited pitch count, the team will have plenty of bullpen reinforcements.
Garza will have all of September to work back to full strength before what he and the Brewers hope is a run into the postseason.
"I'd rather have all of August and September," Garza said, "but I'll take what I can get."
Adam McCalvy is a reporter for MLB.com. Read his blog, Brew Beat, and follow him on Twitter at @AdamMcCalvy. This story was not subject to the approval of Major League Baseball or its clubs.