Brewers slot Garza to return against Cubs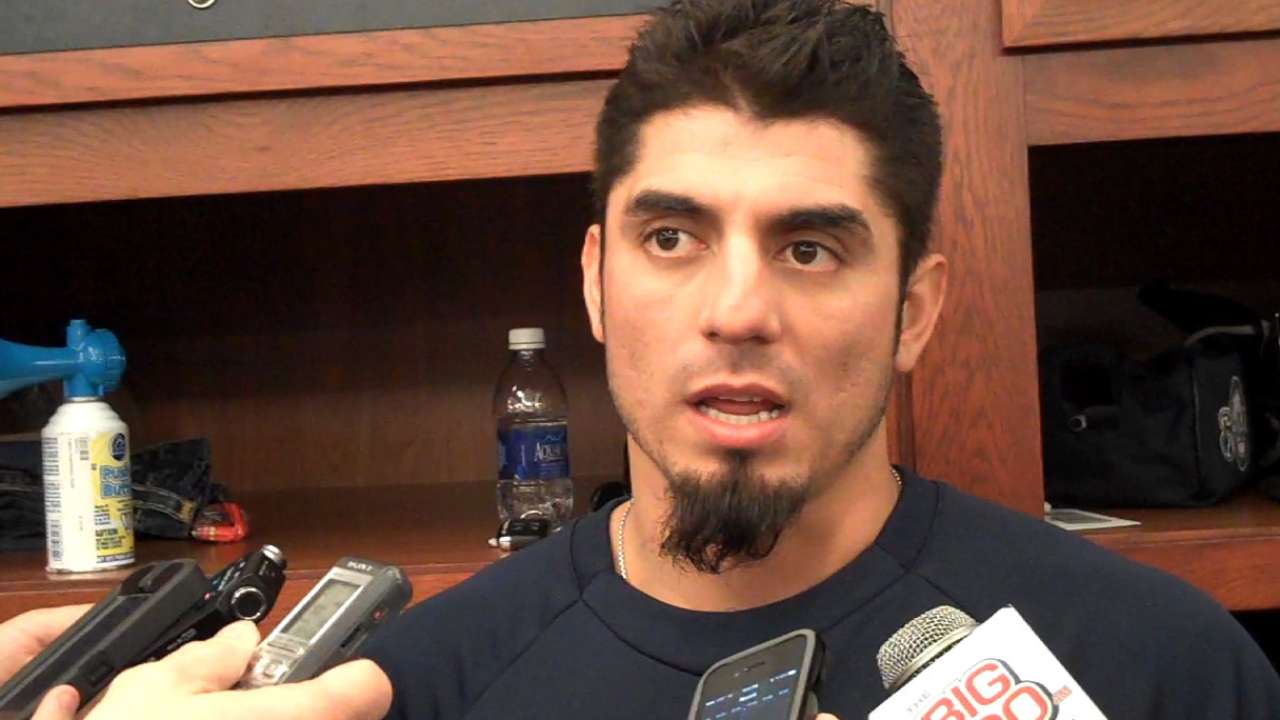 SAN FRANCISCO -- Matt Garza will rejoin the Brewers' rotation Wednesday at Wrigley Field, one calendar month after coming out of a start in St. Louis with a left rib-cage strain.
Instead of saying whose spot Garza will take, manager Ron Roenicke suggested the Brewers may stick with six starting pitchers for at least one turn through the rotation in September. The team is at the start of 17 games in as many days and does not have a scheduled off-day until Sept. 15.
"If we do it for one time through, it works out pretty good," Roenicke said. "And it gives some guys six days' rest at the end. I still think we look good out there as far as physically, but at the end of the season you never know. So if an extra day helps, maybe we'll do it that way."
Jimmy Nelson, who was optioned to Class A Brevard County in a paper move Saturday that allowed the Brewers to bring in bullpen help, is scheduled to travel to Chicago on Sunday ahead of an afternoon Labor Day start against the Cubs. Yovani Gallardo is scheduled to start Tuesday before Garza's turn Wednesday.
Statistically speaking, extra rest has been a wash this season. Brewers starters are 33-22 with a 3.61 ERA and a 1.186 WHIP in 74 games with four days off between starts. Entering Mike Fiers' outing Saturday, they were 33-19 with a 3.73 ERA and a 1.257 ERA in 60 games on extra rest.
"Plus, if all the guys are throwing well, it's kind of hard to say, 'Hey, you're out of there,'" Roenicke said. "So that's why we look at it and see what we think is the best."
One more factor: Giving Nelson another start after Monday would push Gallardo's subsequent start to Sept. 8 against the Marlins, meaning Gallardo would miss a four-game series against St. Louis at Miller Park. He is 1-11 with a 6.45 ERA in 17 career starts against the Cards, including no decisions and a 6.35 ERA in two starts this season.
Adam McCalvy is a reporter for MLB.com. Read his blog, Brew Beat, and follow him on Twitter at @AdamMcCalvy. This story was not subject to the approval of Major League Baseball or its clubs.