Broxton joins Brewers, adds experience to 'pen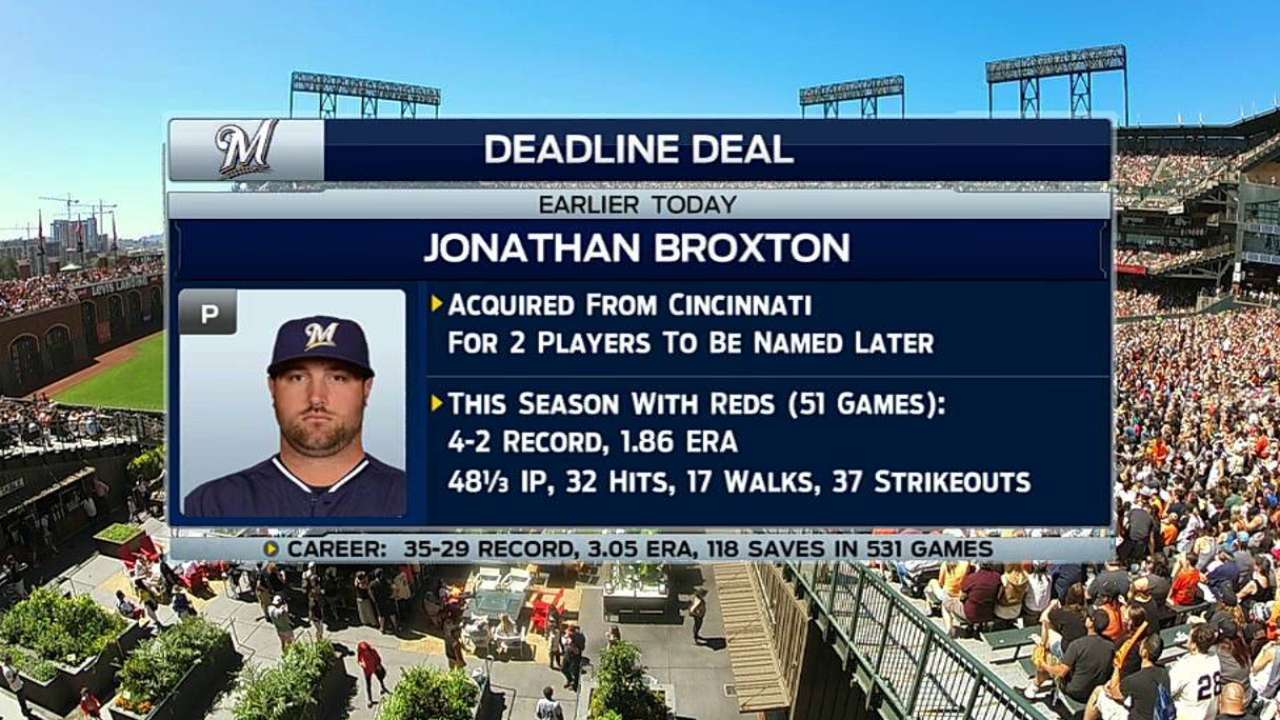 CHICAGO -- Recently acquired right-handed reliever Jonathan Broxton joined the Brewers Monday at Wrigley Field as the team began a three-game series against the Cubs.
Manager Ron Roenicke said that Broxton will be largely used as the setup reliever to closer Francisco Rodriguez, whose 39 saves are tied for fourth most in the Majors. Broxton boasts a 1.86 ERA with 37 strikeouts in 48 1/3 innings this season.
Roenicke indicated that righty-lefty matchups will play little consequence in his late-game pitching decisions.
"There's not any restrictions for me," Roenicke said. "I haven't really looked at the exact splits on [Broxton], but I know that [whether] you're the eighth-inning guy or the closer, you don't care about those things."
The manager also noted that Will Smith could still serve as a late-innings reliever despite a recent fall off from his stellar start to the season. Roenicke said his game decisions for the two wouldn't necessarily be dictated by platoon.
Broxton started the season as the Reds' closer with Aroldis Chapman on the disabled list, but has primarily served as a setup reliever since Chapman's return on May 10.
"My whole career, I've pitched anywhere from seventh to the ninth," said Broxton, who was also the Dodgers' closer for parts of three seasons. "I've got experience in all the roles. Whatever [Roenicke] needs, I'm going to go out there and do my best."
The 10-year veteran was dealt on Sunday's waiver-trade deadline from the Reds for two players to be named later.
Broxton's addition also proves worthy in their long-term bullpen plans with the possibility of Rodriguez leaving via free agency.
Broxton is currently in the second year of a three-year, $22 million deal that has a mutual option clause for 2016.
Daniel Kramer is an associate reporter for MLB.com. This story was not subject to the approval of Major League Baseball or its clubs.