Gomez sits with wrist injury, will likely get MRI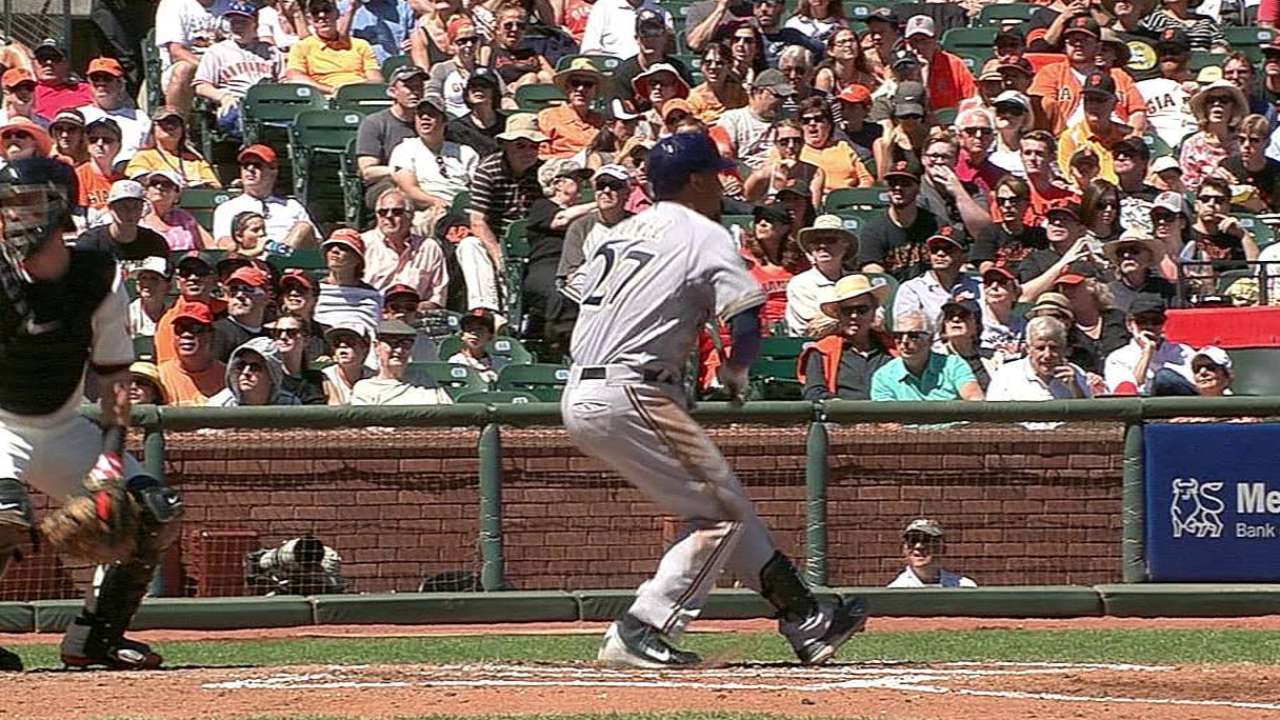 CHICAGO -- Carlos Gomez was not in the Brewers' lineup for Monday's series opener at Wrigley Field after leaving Sunday's game against the Giants with a left wrist injury.
Manager Ron Roenicke said that X-rays taken on Sunday were negative, but that an MRI will likely be conducted also. Roenicke was unsure to the severity of Gomez's injury, but said that the two-time All-Star exhibited a healthier demeanor Monday.
"I'm encouraged today," Roenicke said while noting that Gomez will likely miss more than a game. "You would think if it was really bad, it'd be worse today than it was yesterday."
Gomez said he felt a "pop" in the wrist during a third-inning strikeout, in which he spun 360-degrees before dropping the bat, conferring with head athletic trainer Dan Wright and ultimately leaving the game.
Roenicke said Gomez's more forceful swing than the typical hitter could have been a contributing factor to the soreness that led to the injury.
"Hand or wrist is not good for him," Roenicke said of Gomez, who has been the team's leadoff hitter in 88 of his 127 starts. "There's no easing back on swings, and the way he plays, his whole game depends on him being physically close to 100 percent."
Gerardo Parra took over Gomez's post in center field and batted sixth in Monday's series opener against the Cubs as he did Sunday. Since arriving from Arizona at the Trade Deadline, Parra has a .222/.286/.378 slash line with four extra-base hits, three walks and seven RBIs in 23 games, nine of which he's started.
"Any time you have one of your guys that sparks the team, when he's out of there and you can replace him with a guy that's really good, it makes a big difference," Roenicke said of Parra.
The team also called up utility outfielder Logan Schafer in an expected move as rosters expanded to 40 on Monday.
Daniel Kramer is an associate reporter for MLB.com. This story was not subject to the approval of Major League Baseball or its clubs.