Gomez: I have to be '100 percent' to return to action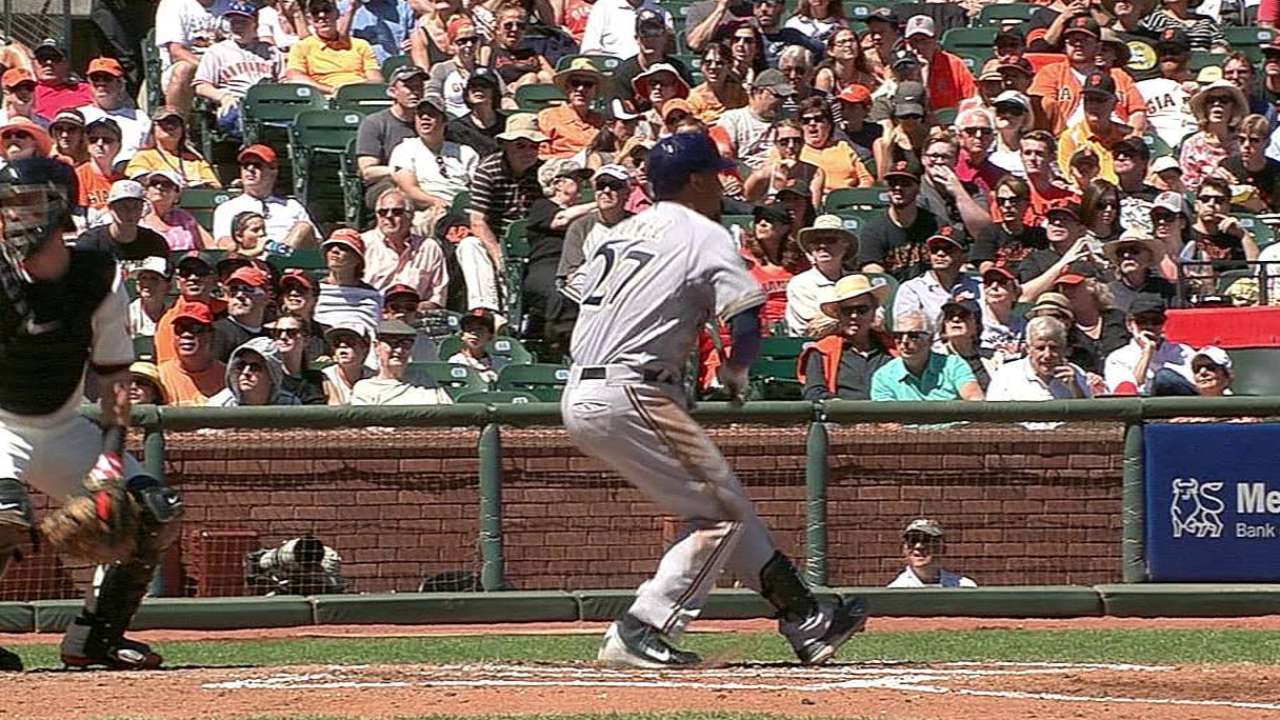 CHICAGO -- Carlos Gomez sported a brace on his left arm as he strutted around the Wrigley Field clubhouse Wednesday.
Gomez could offer no specific timetable for his return from a sprained left wrist sustained Sunday in San Francisco, particularly given the extent of the injury and the nature of his aggressive swing, which he said he won't adjust.
Gomez won't partake in any physical activity until at least the one-week mark, and from there will slowly work back in late-game situations.
"For me, I'm going to have to be 100 percent to go," Gomez said.
The team's primary leadoff batter, Gomez said he felt he could play Wednesday, but indicated that doing so could enhance the severity of the injury.
"I have to be careful, because if I complicate it, it can take like four to six months [to recover]," Gomez said. "You don't want more. So you just be smart and do anything I'm supposed to with my trainer to help the pain."
"And I don't help my team in either way, so I have to make sure. It's better to last a couple extra days and come back, especially with those series that we have -- St. Louis and Pirates is really important."
Gomez said he felt a "pop" in the wrist during a third-inning strikeout in Sunday's 15-5 loss to the Giants. After spinning 360 degrees, dropping the bat then conferring with head athletic trainer Dan Wright, Gomez left the game.
Manager Ron Roenicke said Tuesday that Gomez could miss multiple weeks.
Last call
• September callup Matt Clark made his first big league start for the Crew at first base Wednesday against the Cubs. Clark was signed to a Minor League contract on July 5 after asking for his release from the Mets organization due to a lack of playing time.
In 53 games with Triple-A Nashville, Clark posted a line of .316/.374/.611 with 16 homers and 37 RBIs.
"He was on fire at Triple-A. We need somebody on fire," Roenicke said.
First base has largely been split by Lyle Overbay and Mark Reynolds, both of whom have struggled offensively this season.
"[We'll] see if [Clark] can do it," Roenicke said. "If not, Lyle has been swinging the bat better. I think Reynolds is still kind of off and on -- had some good games and then all of the sudden it's not there. I'm trying to find somebody that can do something, do some damage, and hopefully that's all it takes."
• The Cubs started five rookies in their nine-man lineup against the Brewers on Wednesday -- pitcher Kyle Hendricks, shortstop Javier Baez, right fielder Jorge Soler, center fielder Arismendy Alcantara and second baseman Logan Watkins.
Roenicke has noted throughout the series the threat a young team such as the Cubs can pose to a playoff contender like the Brewers.
"They're coming up and they're relaxed and they're trying to show what they can do," Roenicke said Wednesday of the Cubs' rookies. "They've started off really well for them. We have to figure them out. That's our job. Trying to make the good pitches. Hopefully we can keep them quiet."
Daniel Kramer is an associate reporter for MLB.com. This story was not subject to the approval of Major League Baseball or its clubs.