Braun becomes first-time father; Gomez still out
Brewers begin critical four-game series without sluggers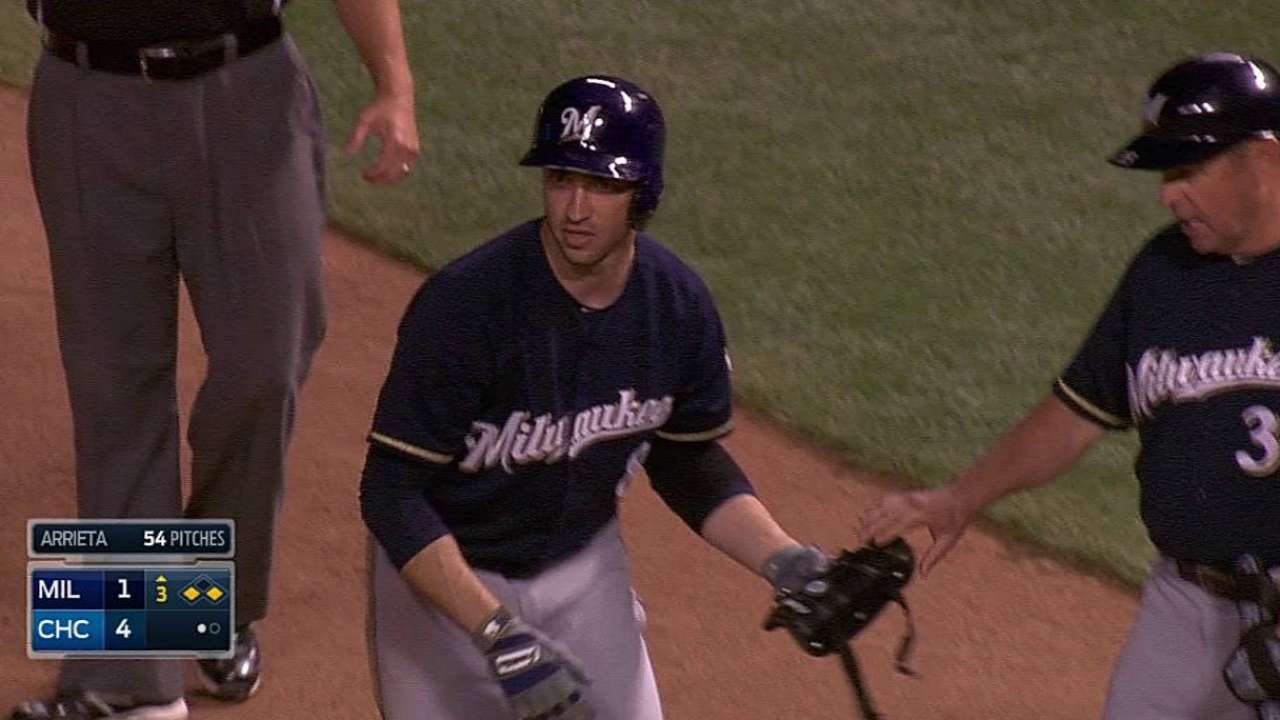 MILWUKEE -- Parenthood trumped the pennant race Thursday for the Brewers' Ryan Braun, who missed the start of a four-game series against the Cardinals to be beside his wife, Larisa, and the couple's first child.
The Brauns welcomed a daughter, Celine Elysse, late Wednesday, and dad couldn't make it to the office for a 3-2 Brewers loss to the Cardinals. The team hopes to have its regular right fielder back in the starting lineup when the series continues Friday night.
Both mom and baby were doing well, reported Brewers manager Ron Roenicke.
For the second straight game, the Brewers were without two of their starting outfielders and top three hitters in the lineup. Center fielder Carlos Gomez was making progress with a sprained left wrist but was limited to pinch-running duties in the seventh inning and will remain limited for several more days at least.
The fact both players were slumping before their absences -- Braun and Gomez were a combined 5-for-40 with 21 strikeouts during the team's active eight-game losing streak -- came as little consolation to a manager whose club entered its most important series all season.
"I'd like he and 'Gomey' in the lineup," Roenicke said. "It's always different when you don't have, especially with what we've been going through lately, you want everyone out there. But [in Braun's case] you've got to do what you've got to do. This is obviously the most important thing in his life."
Gomez, meanwhile, was visiting head team physician William Raasch on Thursday to determine whether the Brewers might be able to accelerate his comeback from a wrist injury sustained Sunday in San Francisco.
The original plan had Gomez not swinging a bat for a full week.
"We need this guy back, and so I hate to just say, 'Oh, well, it'll be a week,' when maybe he'll be ready before that," Roenicke said. "I think Raasch had [previously] planned to come in, but I know that [Gomez] is feeling well, so we talked about seeing what we can do."
Adam McCalvy is a reporter for MLB.com. Read his blog, Brew Beat, and follow him on Twitter at @AdamMcCalvy. This story was not subject to the approval of Major League Baseball or its clubs.